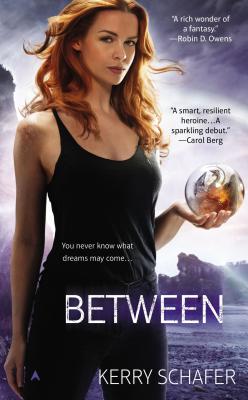 Between (A Book of the Between #1) (Mass Market)
Ace, 9780425261149, 304pp.
Publication Date: January 29, 2013
* Individual store prices may vary.
Description
Vivian Maylor can't sleep. Maybe it's because she just broke up with her boyfriend and moved to a new town, or it could be the stress of her new job at the hospital. But perhaps it's because her dreams have started to bleed through into her waking hours.

All of her life Vivian has rejected her mother's insane ramblings about Dreamworlds for concrete science and fact, until an emergency room patient ranting about dragons spontaneously combusts before her eyes—forcing Viv to consider the idea that her visions of mythical beasts might be real.

And when a chance encounter leads her to a man she knows only from her dreams, Vivian finds herself falling into a world that seems strange and familiar all at once—a world where the line between dream and reality is hard to determine, and hard to control…
About the Author
Kerry Schafer's job as a Mental Health Crisis Response Specialist takes her regularly into odd pockets of reality that provide inspiration for her writing. 
Praise For Between (A Book of the Between #1)…
"A smart, resilient heroine, a scarred hero, dragons that are all too real and much too close, and myriad doorways that lead from a modern ER into dreams and waking and everything in Between make for a sparkling debut novel.  Most enjoyable."—Carol Berg, National Bestselling Author of
The Demon Prism
"A rich wonder of a fantasy, full of life, death, dreams and nightmares becoming real, and dragons.  I was swept away."—Robin D. Owens, Award-Winning Author of Heart Secret

"I never expect a series to sweep me off my feet in the first book, which makes it all the sweeter when it happens. . .I can't wait to read what Schafer comes up with next."—AllThingsUrbanFantasy.com

"[A] lyrical, beautifully written story...moves along at a swift pace that grabs you and doesn't let you down."—DangerousRomance.com