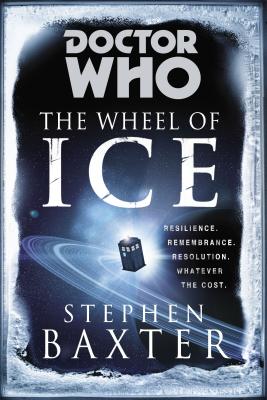 Doctor Who (Hardcover)
The Wheel of Ice
Ace Books, 9780425261224, 320pp.
Publication Date: December 31, 2012
Other Editions of This Title:
Paperback (5/6/2014)
* Individual store prices may vary.
Description
"From Stephen Baxter, master of science fiction and national bestselling author of "Bronze Summer," comes an all-new Doctor Who adventure "
Resilience. Remembrance. Restoration.
Whatever the cost.
Hurtling through a vortex beyond time and space is a police box that's not a police box. The TARDIS has carried the Doctor and his companions, Jamie and Zoe, to all sorts of places, but now, when they don t want to go anywhere, the TARDIS makes a decision for them. Like it or not, they re coming in for a landing, who knows where or when
The Wheel. A ring of ice and metal turning around a moon of Saturn, home to a mining colony supplying a resource-hungry Earth. It's a bad place to live and a worse place to grow up.
The colony has been plagued by problems. Maybe it's only a run of bad luck, but the equipment failures and thefts of resources have been increasing. And there are stories among the children of mysterious creatures glimpsed aboard the Wheel. Some of the younger workers are even refusing to go down into the warren-like mines any more.
And then one of them, surfing Saturn's rings, saves an enigmatic blue box from destruction.
Once on the Wheel, the Doctor and his companions face a critical situation when they become suspected by some as the source of the ongoing sabotage.
They soon find themselves caught in a mystery that goes all the way back to the creation of the solar system. A mystery that could destroy the Wheel and kill them all...
About the Author
Stephen Baxter was born in Liverpool, England, in 1957. He holds degrees in mathematics, from Cambridge University; engineering, from Southampton University; and business administration, from Henley Management College. He s a Chartered Engineer and Fellow of the British Interplanetary Society.His first professionally published short story appeared in 1987. He has been a full-time author since 1995 and is currently Vice-President of the British Science Fiction Association.His science fiction novels have been published in the UK, the US, and in many other countries including Germany, Japan, France. His books have won several awards including the Philip K Dick Award, the John Campbell Memorial Award, the British Science Fiction Association Award, the Kurd Lasswitz Award (Germany) and the Seiun Award (Japan) and have been nominated for several others, including the Arthur C Clarke Award, the Hugo Award and Locus awards. He has also published over 100 sf short stories, several of which have won prizes. He can be found at stephen-baxter.com."
Praise For Doctor Who: The Wheel of Ice…
Praise for Stephen Baxter

"A stunning talent!"—Locus

"Highly intelligent, with original ideas in almost every sentence."—The Guardian (UK)

"Time places Baxter firmly in the tradition of Arthur C. Clarke and Isaac Asimov."—The Times (UK)

"Technically brilliant and downright exciting."—SFX  
or
Not Currently Available for Direct Purchase