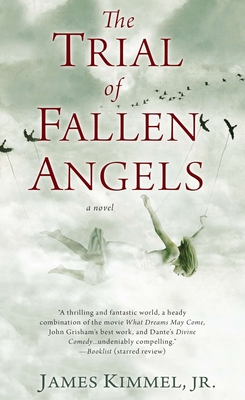 The Trial of Fallen Angels
Paperback

* Individual store prices may vary.
Other Editions of This Title:
Digital Audiobook (11/7/2012)
Hardcover, Large Print (2/22/2013)
Hardcover (11/8/2012)
Paperback, Spanish (10/1/2013)
Description
When young attorney and mother Brek Cuttler finds herself covered in blood and standing on a deserted train platform, she has no memory of how she got there. For one very good reason.

She's dead.

But she doesn't believe it at first. Trapped between worlds, Brek struggles to get back to her husband and daughter until she receives a shocking revelation that makes her death no longer deniable: She's been chosen to join the elite group of lawyers who prosecute and defend souls at the Final Judgment.

With each dramatic trial conducted in a harrowing courtroom of eternity, Brek discovers how the choices that she and others made during their lives have led her to this place. She realizes that if she's to break the chain, she must first face the terrible truth about her death. But before Brek can do that, she suddenly finds that she herself has been called to stand trial…and that her first client in the afterlife holds the secret to her fate.
Praise For The Trial of Fallen Angels…
"Kimmel has created a thrilling and fantastic world, a heady combination of the movie What Dreams May Come, John Grisham's best work, and Dante's Divine Comedy. Sometimes dreamily lyrical and sometimes harshly realistic, Kimmel's authorial voice is undeniably compelling."—Booklist (starred review)

"In a world seething with anger in search of so-called justice, James Kimmel, Jr., spins a heartbreaking story that delivers a rebuke with courage, intelligence, and elegant prose."—Bryan Gruley, author of The Skeleton Box

"Kimmel pays readers a supreme compliment here by inviting them to take seriously the theological question of the Last Judgment.... An intriguing, intricate, and metaphysical novel—not your typical fare."—Kirkus Reviews

"This powerful debut from lawyer Kimmel…explores a myriad of spiritual concepts expressed in various religions. He deftly unveils each new character and cleverly balances the positive and negative aspects of their lives. Building upon the memories of multiple generations, Kimmel has written a stirring spiritual thriller."—Library Journal
Berkley, 9780425261675, 432pp.
Publication Date: October 1, 2013
About the Author
James Kimmel, Jr., received a doctorate in jurisprudence from the University of Pennsylvania and is a lawyer who focuses on the intersection of law and spirituality. This is his first novel.
What is the primary legal, philosophical, and theological debate being waged in this book? What is the relevance of this debate to the lives we lead here on earth?
What is the significance of Brek's profession as a lawyer, and her best friend Karen Busfield's profession as a priest, to this debate?
Brek Cuttler becomes a lawyer of souls at the Final Judgment. Do you believe there is a Final Judgment after death? If so, does the book challenge or reflect your views of how it might unfold?
By becoming a lawyer of souls, Brek is able to experience the inner thoughts, feelings, and memories of other people. What does she learn from this experience?
Luas, Brek's legal mentor in the afterlife, has been presenting the same soul at the Final Judgment for two thousand years. Why? What does this signify?
Brek devotes her life to the pursuit of justice. How does she benefit from leading such a life? How does it benefit others? What does it cost her? What does it cost others?
Mahatma Gandhi, a lawyer himself, once said: "The true function of a lawyer [is] to unite parties riven asunder." Is this how Brek views her role as a lawyer? Is this how lawyers function in our society today?
How is the word justice defined throughout the book? Does the definition change? Does justice have more than one meaning?
How do you define justice? How does society define it?
What does justice mean when our national leaders say we are going to "bring the terrorists to justice"? What does it mean when, after a criminal has been executed, our leaders proclaim, "Justice has been served"?
Is justice in conflict with forgiveness? Can the two be reconciled?
How are Ott Bowles and Brek Cuttler alike? How are they different?
Does Ott Bowles ever repent of his notorious sins? Is his repentance necessary?
Ott Bowles and Samar Mansour debate the Holocaust and the Israeli–Palestinian conflict. Do you agree with any of the views expressed in this debate? How does the debate symbolize the conflict waged throughout the book between justice and forgiveness?
Whom do the following characters represent: Haissem, Elymas, Luas? Explain.
Nana Bellini, Brek's great-grandmother, says that Brek can help Luas finally leave Shemaya. How does Brek help him?
At the end of the book, who is revealed as the ultimate Judge at the Final Judgment? Do you agree? Why or why not?
The Trial of Fallen Angels has been called a modern parable and an allegory. What is the message of the parable? What is the meaning of the allegory?
Has the novel altered your beliefs or understanding of the world in any way? How?
or
Not Currently Available for Direct Purchase