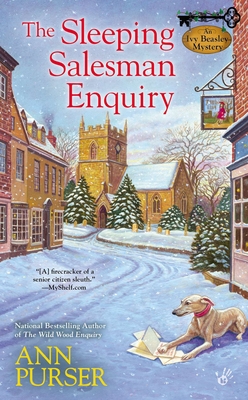 The Sleeping Salesman Enquiry (Mass Market Paperbound)
Berkley Books, 9780425261804, 304pp.
Publication Date: May 7, 2013
Description
From the author of the Lois Meade Mysteries...
Save the date: Ivy Elizabeth Beasley is ready to share her golden years and plans to wed Roy Vivian Goodman on the fifth of May. A spinster no more, the private eye is in for marriage, murder, and mishaps galore
It's the talk of Ivy Beasley's retirement community her fiance, Roy, has quite the hefty inheritance. She couldn t care less about his fortune, but it has a way of luring long-lost relatives out of the woodwork. And when, against Ivy's wishes, Roy asks his dubious nephew, furniture salesman Steven Wright, to be the best man, she cannot help but disapprove. After all, she suspects he's out for his uncle's fortune
But after the banns of Ivy and Roy's marriage are announced at the Barrington village church and an anonymous voice shouts out a protest, the wedding may be off. And with the discovery of a body in a bed in a nearby furniture shop, Ivy and her team of sleuths at Enquire Within may be closer to a dangerous reception than they realize.
About the Author
Ann Purser is also the author of the Lois Meade Mysteries that ran from Murder on Monday to Sorrow on Sunday andnow continue Lois Meade's sleuthing in Warning at One, Tragedy at Two, Threats at Three, Foul Play at Four, and Found Guilty at Five.The series featuring Ivy Beasley includes such titles as The Hangman's Row Enquiry and The Measby Murder Enquiry. She was born in Market Harborough in Leicestershire, and has lived most of her life in villages. She has turned her hand to many things, including journalism (as a columnist for SHE magazine), keeper of hens and donkeys, art gallery manager, clerical assistant in a village school, Open University graduate, novelist, mother of three, wife of Philip Purser, critic and writer. She is an avid reader of detective stories."
Praise For The Sleeping Salesman Enquiry…
Praise for the Ivy Beasley Mysteries   "This cozy will keep you guessing until the last page. A very fast story with a very unique main character in Ivy. Full of wit, animosity and friendships to keep."—Once Upon a Romance   "A pleasant read, evoking Saint Mary Mead and Miss Marple with its atmosphere of surface calm and hidden demons. It's a solid book, cleverly plotted and tightly structured, with all the makings of a perennial favorite."—Curled Up with a Good Book

  ...and the Lois Meade Mysteries

  "Spot-on observations of working-class village life."--Publishers Weekly

"A real page turner." --Kirkus Reviews

"The indomitable Lois is something of an updated Miss Marple"--Booklist
Advertisement