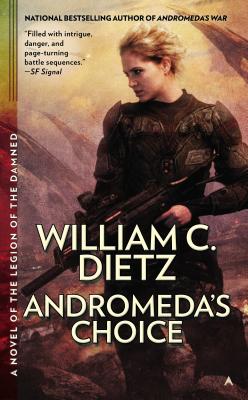 Andromeda's Choice (Legion of the Damned (Mass Market)
Before the Fall #2)
Ace, 9780425262146, 368pp.
Publication Date: November 25, 2014
Other Editions of This Title:
Hardcover (12/3/2013)
MP3 CD (5/17/2016)
* Individual store prices may vary.
Description
National bestselling author William C. Dietz returns with Andromeda McKee, a woman who rebuilt her life in the violent embrace of the Legion of the Damned in the days when cyborgs were first being introduced...

In a different world, Lady Catherine "Cat" Carletto would never have left her pampered life behind. But when Princess Ophelia became Empress Ophelia in a coup that claimed the lives of the princess's brother and all who supported him, including the Carletto family, Cat had to hide—or die.

She became Legionnaire Andromeda McKee, and now she's a battle-scarred veteran who knows how to kill. And when she's summoned to Earth to receive the Imperial Order of Merit from the Empress herself, Andromeda realizes that the moment is coming when her revenge will be at hand…
About the Author
William C. Dietz is the bestselling author of more than forty novels, some of which have been translated into German, Russian, and Japanese. He grew up in the Seattle area, served as a medic with the Navy and Marine Corps, graduated from the University of Washington, and has been employed as a surgical technician, college instructor, and television news writer, director, and producer. Prior to becoming a full-time writer, Dietz served as director of public relations and marketing for an international telephone company. He and his wife live near Gig Harbor, Washington.

His recent Legion of the Damned novels include Andromeda's Fall, A Fighting Chance, When Duty Calls, and When All Seems Lost. 
Praise For Andromeda's Choice (Legion of the Damned: Before the Fall #2)…
"Filled with intrigue, danger, and page-turning battle sequences."—SF Signal

"Andromeda McKee is one hell of a heroine. Dietz is a rarity among male science fiction authors: He can write a steely, badass female protagonist without making her seem unreasonably stoic…If you don't root for 'the Steel Bitch,' I just don't know what to do with you."—RT Book Reviews

Praise for Andromeda's Fall:

"[Recommended] for readers who enjoy military fiction, science fiction, action, and strong female characters."—Fresh Fiction

"[Andromeda's Fall features] a likeable protagonist, a ruthless villain, and enough surprises and pounding action to propel the reader forward."—SF Signal

"Full of action and suspense."—Elitist Book Reviews