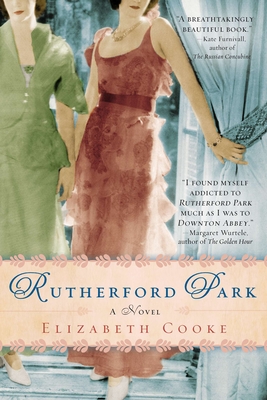 Rutherford Park
A Novel
Paperback

* Individual store prices may vary.
Other Editions of This Title:
Digital Audiobook (7/1/2013)
Library Binding, Large Print (6/1/2016)
Description
Snow had fallen in the night, and now the great house, standing at the head of the valley, seemed like a five-hundred-year old ship sailing in a white ocean…

For the Cavendish family, Rutherford Park is much more than a place to call home. It is a way of life marked by rigid rules and lavish rewards, governed by unspoken desires…
 
Lady of the house Octavia Cavendish lives like a bird in a gilded cage. With her family's fortune, her husband, William, has made significant additions to the estate, but he too feels bound—by the obligations of his title as well as his vows. Their son, Harry, is expected to follow in his footsteps, but the boy has dreams of his own, like pursuing the new adventure of aerial flight. Meanwhile, below stairs, a housemaid named Emily holds a secret that could undo the Cavendish name.
 
On Christmas Eve 1913, Octavia catches a glimpse of her husband in an intimate moment with his beautiful and scandalous distant cousin. She then spies the housemaid Emily out in the snow, walking toward the river, about to make her own secret known to the world. As the clouds of war gather on the horizon, an epic tale of longing and betrayal is about to unfold at Rutherford Park…
Praise For Rutherford Park: A Novel…
"A breathtakingly beautiful book. Cooke portrays an aristocratic dynasty that in 1914 was poised on the brink of extinction, as ponderous as the huge dinosaurs but just as magnificent. The exquisite intimacy of the writing and of the haunting love story drew me into this elegant world so entirely that I couldn't imagine ever leaving it. The vivid characters and understated heartbreak of their conflicts, above and below stairs, are depicted with sensitivity and insight. Superbly researched, a real treat."—Kate Furnivall, author of The Russian Concubine

"I found myself addicted to Rutherford Park, much as I was to Downton Abbey. I reveled in delicious detail about life in a great country estate, all the while waiting to learn: would Octavia's family survive or would they be torn apart by the forces converging on them: personal failings, society's excesses, and Europe's Great War?"—Margaret Wurtele, author of The Golden Hour

"Beautiful, melancholy and richly detailed, Rutherford Park elegantly depicts the lives within an English country house on the cusp of a new age. Elizabeth Cooke evokes classic authors like Vita Sackville West and Frances Hodgson Burnett."—Natasha Solomons, author of The House at Tyneford

"Reminiscent of Catherine Cookson, a heart-aching story of an old world order and class divides set against Edwardian England."—Judith Kinghorn, author of The Last Summer

"With its vivid descriptions and memorable characters, Rutherford Park drew me in from the first page.  Richly textured with historical details, the novel captures perfectly the pre-World War I mood and atmosphere of the grand Yorkshire house and the lives of those who inhabit it.  The final page left me thoroughly satisfied, yet wishing for more. Thank you, Elizabeth Cooke, for a wonderful story and the promise of another."—Kelly Jones, author of The Woman Who Heard Color

"Comparisons with Downton Abbey on the eve of WWI are inevitable, but Rutherford Park gives a more comprehensive and realistic look at the farms and mill villages that sustained the great houses and shows us the inevitable cracks in their foundations.  Compelling."—Margaret Maron, author of the Judge Deborah Knott series
Berkley, 9780425262580, 336pp.
Publication Date: July 2, 2013
About the Author
Elizabeth Cooke lives in Dorset in southern England and is the author of twelve novels, among them the international bestseller The Ice Child. Her last book, the non-fiction The Damnation of John Donellan was described as "a masterpiece" by The Times. She has a long-established reputation for vivid storytelling and historical accuracy.

Elizabeth's family originates in the North Yorkshire Dales - Bronte country - and her grandfather worked at Kiplin Hall, where he was one of the "downstairs" staff. His life, and Yorkshire itself - both its outstanding natural beauty and the industrial life of its mill towns and cities - were the inspiration for Rutherford Park. Elizabeth is currently working on the second Rutherford book.
The novel opens at Christmas–time with the tragic story of Harry's relationship with Emily, their daughter's birth, and Emily's death. How does Emily's fate affect Harry's relationship with his parents, and with himself, as he grows into adulthood?
Louisa is portrayed as an innocent naïve young woman who aims to please her family and society's expectations. However, when she is being fitted for her Presentation dress, Louisa feels a strange urge to step on the seamstress's hand, and "to hear the girl squeal." (p. 77). What do you think this brief scene reveals about her true character?
Mary and Emily are both mill town girls, yet they are polar opposites in character, as Emily is timid and runs from her troubles, while Mary is outspoken and tackles obstacles head–on. What do you think this says about the extent to which personality is affected by situation?
The women in the novel seem to consider it a fact of life that men will cheat on their wives, and Hetty had "not even seemed surprised" that William had an affair (p. 130). Octavia, though, has an affair of her own with John Gould. Do you think Octavia's affair is justified? Going further, do you think her affair represents empowerment while William's signifies weakness? Discuss.
John Gould finds, in going through William's paperwork, a note that someone wrote in the margin: "Honesty is no match for villainy" (p. 114). To what extent does the novel support this theory? What are some examples?
Throughout the novel, Helene is portrayed as a caricature of sorts, representing a modern, independent, and promiscuous woman. However, when William and Harry confront her in her Paris home looking for Louisa, she is not the fashionable flirt she usually appears to be, answering the door in a shawl and slippers. Do you sympathize with her and her situation, or do you think she deserves her fate?
Octavia says to John that she longs to "do anything at all" (p. 182), and even somewhat envies the servants for their work. At Christmas, William looks out at the labourers and considers them more "real" (p. 52) than the monuments he and his wife symbolize. Do you think William sees his privileged life as a blessing, or as an obligation?
Helene is the catalyst for Octavia and William's marital troubles. However, she is also the epitome of a free and modern woman. Is Helene the villain in the novel who causes the Cavendish's downfall, or is her affair with William a blessing in disguise for Octavia, opening her up to new possibilities for happiness?
John believes that human beings are "taken down by not giant chaos, but trivial mistakes" (p. 150). To what extent do you think this is true? What trivial mistakes have brought down the characters in the novel?
Like Helene, John has a reputation as a charmer and a flirt. These characters bring up the idea of reputation versus the truth. How are Helene and John similar, and how are they different in terms of living up to their scandalous reputations?
John expresses that he considers himself an adventurer and explorer who is not ready to settle down, doubting that he could ever be faithful to a woman. However, he daydreams about a future in America with Octavia and the children. John himself "didn't know what he was, and that was the truth" (p. 189). Who, do you think, is the real John Gould? Give examples that show his true character.
Throughout the novel, William expresses a very traditional view of women, believing they should be obedient wives who need to be "protected from reality" (p. 237). Do you think that William's attitude toward women has changed at all by the end of the novel? How?
How would you describe Harry and William's relationship at the end of the novel? Do you think they have reached a sort of truce, or will their differences always create tension?
Why, do you think, Octavia stays at Rutherford at the end of the novel? Is it purely for the children's sake, as she suggests, or are other motives involved?
At the end of the novel, do you think Octavia will follow William in his bare feet? If yes, do you think that signifies weakness or strength in her character?
or
Not Currently Available for Direct Purchase