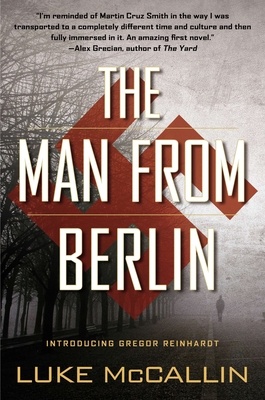 The Man From Berlin (Paperback)
A Gregor Reinhardt Novel
Berkley, 9780425263051, 448pp.
Publication Date: July 2, 2013
* Individual store prices may vary.
Description
Amidst the chaos of World War II…
In a land of brutality and bloodshed…
One death can still change everything.
 
In war-torn Yugoslavia, a beautiful young filmmaker and photographer—a veritable hero to her people—and a German officer have been brutally murdered.
 
Assigned to the case is military intelligence officer Captain Gregor Reinhardt. Already haunted by his wartime actions and the mistakes he's made off the battlefield, he soon finds that his investigation may be more than just a murder—and that the late Yugoslavian heroine may have been much more brilliant—and treacherous—than anyone knew.
 
Maneuvering his way through a minefield of political, military, and personal agendas and vendettas, Reinhardt knows that someone is leaving a trail of dead bodies to cover their tracks. But those bloody tracks may lead Reinhardt to a secret hidden within the ranks of the powerful that they will do anything to keep.
 
And his search for the truth may kill him before he ever finds it.
About the Author
Luke McCallin was born in 1972 in Oxford, grew up around the world and has worked with the United Nations as a humanitarian relief worker and peacekeeper in the Caucasus, the Sahel, and the Balkans. His experiences have driven his writing, in which he explores what happens to normal people—those stricken by conflict, by disaster—when they are put under abnormal pressures.
Praise For The Man From Berlin: A Gregor Reinhardt Novel…
"I'm reminded of Martin Cruz Smith in the way I was transported to a completely different time and culture and then fully immersed in it. An amazing first novel."—Alex Grecian, author of The Yard

"A wild ride...with plenty of twists and turns. This debut novel will make you salivate for a sequel."—Charles Salzberg, author of the Shamus Award-Nominated Swann's Last Song and Swann Dives In

"Set in 1943 Sarajevo, McCallin's well-wrought debut… highlights the complexities of trying to be an honest cop under a vicious, corrupt regime...Intelligent diversion for WWII fans."—Publishers Weekly