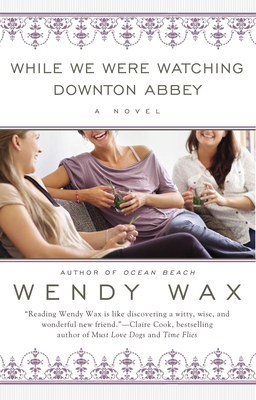 While We Were Watching Downton Abbey (Paperback)
Berkley, 9780425263310, 384pp.
Publication Date: April 2, 2013
Other Editions of This Title:
Digital Audiobook (4/1/2013)
Mass Market (12/31/2013)
* Individual store prices may vary.
Description
From the bestselling author of My Ex-Best Friend's Wedding comes a novel about four friends who share a passion for a beloved British television show that will change all of their lives.

When the concierge of The Alexander, a historic Atlanta apartment building, invites his fellow residents to join him for weekly screenings of Downton Abbey, four very different people find themselves connecting with the addictive drama, and—even more unexpectedly—with each other...

Samantha Davis married young and for the wrong reason: the security of old Atlanta money—for herself and for her orphaned brother and sister. She never expected her marriage to be complicated by love and compromised by a shattering family betrayal.

Claire Walker is now an empty nester and struggling author who left her home in the suburbs for the old world charm of The Alexander, and for a new and productive life. But she soon wonders if clinging to old dreams can be more destructive than having no dreams at all.

And then there's Brooke MacKenzie, a woman in constant battle with her faithless ex-husband. She's just starting to realize that it's time to take a deep breath and come to terms with the fact that her life is not the fairy tale she thought it would be.

For Samantha, Claire, Brooke—and Edward, who arranges the weekly gatherings—it will be a season of surprises as they forge a bond that will sustain them through some of life's hardest moments—all of it reflected in the unfolding drama, comedy, and convergent lives of Downton Abbey.
About the Author
Wendy Wax, a former broadcaster, is the author several novels and two novellas, including My Ex-Best Friend's Wedding, Best Beach Ever, One Good Thing, Sunshine Beach, A Week at the Lake, While We Were Watching Downton Abbey, The House on Mermaid Point, Ocean Beach, and Ten Beach Road. The mother of two grown sons, she left the suburbs of Atlanta for an in town high-rise where she and her husband are happily downsized.
Praise For While We Were Watching Downton Abbey…
Praise for While We Were Watching Downton Abbey

"Quite a clever, fun little novel."—USA Today

"Wax's delightful tale explores how life imitates art when four very different people bond over the period drama."—BookBub

"A tribute to the transformative power of female friendship, and reading Wendy Wax is like discovering a witty, wise, and wonderful new friend."—Claire Cook, bestselling author of Must Love Dogs and Time Flies

"Wax's trendy premise makes for a surprisingly poignant and enjoyable story about friendship."—Booklist
 
"In the style of...Karen Joy Fowler's The Jane Austen Book Club...the book engrosses its reader in the drama of these women's love lives and emotional struggles."—Deseret News

"A grand, well-paced contemporary read definitely deserving to be on the bestseller list!!! Great writing!"—Crystal Book Reviews
 
"Wendy Wax's fresh approach to an entertaining storyline hooks us with the idea that other things could happen 'while we were watching Downton Abbey'....Honesty in any relationship is vital, and Wax shows this truth in downtown Atlanta alongside the engrossing story of Downton Abbey."—Bookreporter.com
 
"This warm and charming novel about struggling to redefine yourself will be your perfect escape."—Lisa Steinke, She Knows
 
"Pulled me in...I highly recommend it."—Night Owl Reviews
 
"Again, Wax has knocked it out of the park."—Great Thoughts
How does watching Downton Abbey draw these characters together? Do you think this is part of the value of a hit television show? How has watching Downton Abbey or any other favorite show added to your life? Could you imagine yourself making a new friend through a shared interest in Downton Abbey?
Downtown Abbey chronicles the lives of the very wealthy and the people who serve them. How is this paralleled in the interactions we view between the characters in the book? How do these relationships evolve?
Samantha, Claire, and Brooke come from very diverse backgrounds and are each at a different stage in life. How do these differences help to bond them together and foster their friendship? How would their ultimate outcomes be altered if they had never become friends?
The relationship between mothers and daughters is a prevalent theme in While We Were Watching Downton Abbey. Readers witness Samantha's interactions with her mother-in-law, Cynthia Davis, as well as Samantha's motherly bond with Meredith; Claire's connection with Hailey; and Brooke's relationship with Ava and Natalie. Discuss the effects of each of these mother-daughter relationships on Samantha, Claire, and Brooke.
In a way, Downton Abbey is also a main character in this book. How would you define its role in the lives of those living in The Alexander? How is the show a catalyst for change?
Edward Parker's Great Uncle Mason says discretion, persistence, and valor "always win the day" (88). Do you think this belief is upheld in the book? Give examples from the story to support your answer.
Food is often described in the book. What role do you think it plays in different settings, such as during the Downtown Abbey gatherings, the family dinners with Samantha and Jonathan, and the meetings between Samantha and her mother-in-law? Can you think of other scenes where food is highlighted?
If you were to write a sequel to While We Were Watching Downton Abbey, how would it go? What do you think the future holds for these characters?