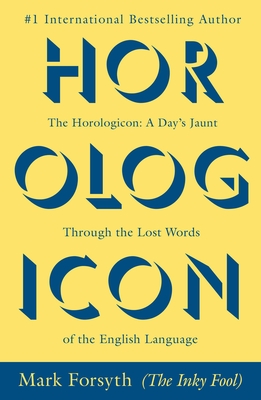 The Horologicon (Paperback)
A Day's Jaunt Through the Lost Words of the English Language
Berkley, 9780425264379, 304pp.
Publication Date: October 1, 2013
Other Editions of This Title:
Digital Audiobook (3/31/2014)
Compact Disc (10/14/2014)
Paperback (11/3/2016)
Compact Disc (4/1/2014)
* Individual store prices may vary.
Description
From Mark Forsyth, the author of the #1 international bestseller, The Etymologicon, comes a book of weird words for familiar situations. The Horologicon (or book of hours) contains the most extraordinary words in the English language, arranged according to what hour of the day you might need them. 

Do you wake up feeling rough? Then you're philogrobolized.

Find yourself pretending to work? That's fudgelling.

And this could lead to rizzling, if you feel sleepy after lunch. Though you are sure to become a sparkling deipnosopbist by dinner. Just don't get too vinomadefied; a drunk dinner companion is never appreciated.

From ante-jentacular to snudge by way of quafftide and wamblecropt, at last you can say, with utter accuracy, exactly what you mean.
About the Author
Mark Forsyth is a writer, journalist, proofreader, ghostwriter, and pedant. He was given a copy of the Oxford English Dictionary as a christening present and has never looked back. He is the creator of The Inky Fool, a blog about words, phrases, grammar, rhetoric, and prose. He lives in the UK.
Praise For The Horologicon: A Day's Jaunt Through the Lost Words of the English Language…
Praise for Etymologicon

"The Facebook of books…Before you know it, you've been reading for an hour."—The Chicago Tribune

"A breezy, amusing stroll through the uncommon histories of some common English words…Snack-food style blends with health-food substance for a most satisfying meal."—Kirkus Reviews

"The stocking filler of the season...How else to describe a book that explains the connection between Dom Perignon and Mein Kampf."—Robert McCrum, The Observer

"Crikey...this is addictive!"—The Times

"Mark Forsyth is clearly a man who knows his onions."—Daily Telegraph

"Delightful…Witty and erudite and stuffed with the kind of arcane information that nobody strictly needs to know, but which is a pleasure to learn nonetheless."—The Independent (UK)

"Witty and well researched…Who wouldn't want to read about the derivation of the word 'gormless'? Or the relationship between the words 'buffalo' and 'buff'?"—The Guardian (UK)