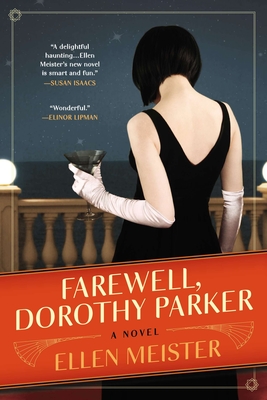 Farewell, Dorothy Parker (A Dorothy Parker Novel) (Paperback)
Berkley, 9780425264713, 368pp.
Publication Date: December 3, 2013
Other Editions of This Title:
Digital Audiobook (2/20/2013)
Hardcover (2/21/2013)
Compact Disc (3/1/2013)
MP3 CD (3/1/2013)
Pre-Recorded Audio Player (3/1/2013)
Compact Disc (2/26/2013)
* Individual store prices may vary.
Description
When it comes to movie reviews, critic Violet Epps is a powerhouse voice. But that's only because she's learned to channel her literary hero Dorothy Parker, the most celebrated and scathing wit of the twentieth century. If only Violet could summon that kind of strength in her personal life.

Violet visits the Algonquin Hotel in an attempt to find inspiration from the hallowed dining room where Dorothy Parker and so many other famous writers of the 1920s traded barbs, but she gets more than she bargained for when Parker's feisty spirit rematerializes. An irreverent ghost with problems of her own—including a refusal to cross over to the afterlife—Mrs. Parker helps Violet face her fears, becoming in turn mentor and tormentor…and ultimately, friend.

READERS GUIDE INSIDE
About the Author
Ellen Meister is the author of The Other Life, The Smart One, and Secret Confessions of the Applewood PTA. She teaches creative writing at Hofstra University School of Continuing Education and runs an online group where she mentors aspiring women authors.
Praise For Farewell, Dorothy Parker (A Dorothy Parker Novel)…
"Magical fun." —Booklist

"[Meister] reveals the pathos behind the pith, and she instructs readers about the enduring legacy of a writer who produced not just 'scathing reviews, clever jokes, quotable poetry, and insightful short stories' but also championed social causes. Classic Parker zingers sprinkled throughout the novel add sparkle."—Washington Post

"Meister honors Dorothy Parker, her still-fresh political convictions, and her body of witty, insightful work in this very nice literary romp.... Parker was the perfect New Yorker: sharp, witty and eminently quotable. And it is clear that Meister had a lot of responsible fun paying tribute to her."—Bookreporter

"Meister skillfully translates the rapier-like wit of the Algonquin Round Table to modern-day New York ... [with] pathos, nuanced characters, plenty of rapid-fire one-liners, and a heart-rending denouement."—Publishers Weekly

"This funny yet tender homage...resurrects the iconic wit of the literary legend...Breezy and engaging...complete with Parkeresque banter."—Library Journal

"Farewell, Dorothy Parker is a delightful haunting. How wonderful to have the renowned wit—America's wisegirl—as resident ghost and adviser.... Ellen Meister's new novel is smart and fun."—Susan Isaacs, New York Times bestselling author of As Husbands Go

"Gone four decades and still missed, Dorothy Parker now has a starring role in Ellen Meister's delicious new novel. No doubt Mrs. Parker, wherever she is, must be smiling." —Marion Meade, author of Dorothy Parker: What Fresh Hell Is This?

"In Farewell, Dorothy Parker, Ellen Meister provides refreshing insight into Mrs. Parker as a wit, civil rights advocate, and writer. Both of this bitchin' novel's main characters—Violet and Dorothy—can visit me any time."—Mark Ebner, New York Times bestselling author of Hollywood, Interrupted

"What bliss to be in the company of a reimagined Dorothy Parker! Ellen Meister's wonderful novel delivers the wit, ingenuity and elegiac sass worthy of the Algonquin Table's most quoted member. Long live Dorothy Parker and her zingers, resurrected so winningly in these pages."
—Elinor Lipman author of The Family Man