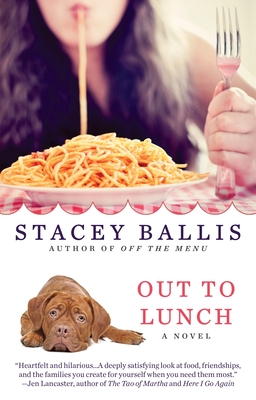 Out to Lunch (Paperback)
Berkley, 9780425265499, 416pp.
Publication Date: December 3, 2013
* Individual store prices may vary.
Description
A touching and hilarious novel from the fabulous Stacey Ballis about best friends, true love, and the joy of food—for fans of Jen Lancaster, Jennifer Weiner, and Emily Giffin...

Jenna has lost her best friend.

With Aimee gone so tragically young, Jenna barely knows where to turn. Aimee was the one who always knew what to do—not to mention what to wear. The two built a catering company together and had so much in common—well, except their taste in men. Jenna never understood what the successful, sophisticated Aimee saw in Wayne, with his Star Wars obsession and harebrained business schemes.

And gained her best friend's husband…

But Aimee has left a shocking last request: Jenna now has financial custody of the not-so-merry widower. True, Wayne needs someone sensible around to keep him under control, but what was her dear departed friend thinking?

The thing is, as she gets to know Wayne better, his latest moneymaking idea actually starts to intrigue her. Her attractive new lawyer boyfriend doesn't approve of it—but then, Wayne doesn't approve of her attractive new lawyer boyfriend. Now Jenna has to figure out what direction her life is going to take next. And she can't help asking herself: What would Aimee do?
About the Author
Stacey Ballis is the author of ten foodie novels: Inappropriate Men, Sleeping Over, Room for Improvement, The Spinster Sisters, Good Enough to Eat, Off the Menu, Out to Lunch, Recipe for Disaster, Wedding Girl, and How to Change a Life. She is a contributing author to three nonfiction anthologies: Girls Who Like Boys Who Like Boys, Everything I Needed to Know About Being a Girl I Learned from Judy Blume, and Living Jewishly.
Praise For Out to Lunch…
Praise for OUT TO LUNCH
"Ballis delves again into foodie women's lit with flavorful results. Some of the story's pleasure derives from the sheer Pinterest-quality abundance of goods—cookies, cashmere and Chicago restaurants abound. A recipe index is offered for aspiring chefs. But Ballis has real things to say about relationships and grief, and at its best, this book is honest and touching. A cozy meal, with dessert."—Kirkus Reviews
"A unique and satisfying story which slowly gains momentum like a carefully cooked meal."—Booklist

"Heartfelt and hilarious….A deeply satisfying look at food, friendships and the families you create for yourself when you need them most."—Jen Lancaster, author of The Tao of Martha and Here I go Again

"A sparkling, heartwarming novel with all the elements of a can't-put-it-down read—a heroine you'll root for, unexpected plot twists, and dangerously good descriptions of food!"—Sarah Pekkanen, author of The Best of Us
"A funny and heartfelt tale of friendship, food, and how difficult it can be to open yourself up to love, you'll want to devour Out to Lunch in one delicious bite. This is Stacey Ballis at her witty and chef-tastic best."—Amy Hatvany, author of Heart Like Mine and Best Kept Secret