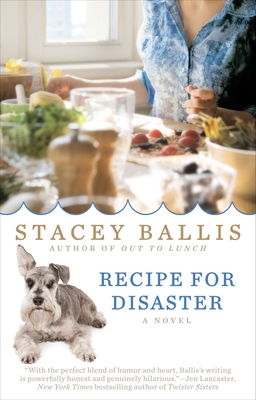 Recipe for Disaster
Paperback

* Individual store prices may vary.
Description
Stacey Ballis cooks up a delicious broth of a novel about a woman whose perfect life falls apart in spectacular fashion--leaving her with a house to restore, an antique cookbook (but no cooking talent), and one very unhappy schnauzer. For fans of Jen Lancaster, Jennifer Weiner, and Emily Giffin.   

To an outside observer, Anneke Stroudt is a mess—her shirts are stained, her fingernails stubby, her language colorful. But, despite her flaws, Anneke's life is close to perfect. She has a beautiful historic house to restore and a loving fiancé who cooks like a dream.
 
Until Anneke's charmed existence falls apart when she loses both her job and her future husband in one terrible day. In need of a new start, she packs up her disgruntled schnauzer and moves into her half-finished home, where she throws her pent-up frustration—and what little savings she has—into finishing the renovation.
 
But at the first step into the house's overhaul, Anneke is sidetracked when she discovers a mysterious leather-bound book, long hidden away, filled with tempting recipes and steamy secrets from Gemma Ditmore-Smythe, the cook for the house's original owners. Slowly, with the help of some delicious food and Emma's life lessons, Anneke begins to realize that, just like a flawless recipe, she's been waiting for the right ingredients to cook up a perfect life all along…

"With the perfect blend of humor and heart, Ballis's writing is powerfully honest and genuinely hilarious."—Jen Lancaster

INCLUDES RECIPES
Praise For Recipe for Disaster…
Praise for Recipe for Disaster

"With lively humor, Ballis pulls together a diverse cast, evocative renovation details, and delicious food descriptions in this well-seasoned novel. Fans of Mary Kay Andrews will enjoy this."—Booklist

"Recipe for Disaster...won me over with its unique heroine—think of Rehab Addict from the HGTV network. Ballis' heroine is a perfect blend of  tough and vulnerable as she struggles to straighten out her messy life."—Heroes and Heartbreakers (a Best Read of the Month)

Praise for Out to Lunch

"Ballis delves again into foodie women's lit with flavorful results. Some of the story's pleasure derives from the sheer Pinterest-quality abundance of goods—cookies, cashmere and Chicago restaurants abound. A recipe index is offered for aspiring chefs. But Ballis has real things to say about relationships and grief, and at its best, this book is honest and touching. A cozy meal, with dessert."—Kirkus Reviews

"A unique and satisfying story which slowly gains momentum like a carefully cooked meal."—Booklist

"Heartfelt and hilarious….A deeply satisfying look at food, friendships and the families you create for yourself when you need them most."—Jen Lancaster, author of The Tao of Martha and Here I go Again

"A sparkling, heartwarming novel with all the elements of a can't-put-it-down read--a heroine you'll root for, unexpected plot twists, and dangerously good descriptions of food!"—Sarah Pekkanen, author of The Best of Us

"A funny and heartfelt tale of friendship, food, and how difficult it can be to open yourself up to love, you'll want to devour Out to Lunch in one delicious bite. This is Stacey Ballis at her witty and chef-tastic best."—Amy Hatvany, author of Heart Like Mine and Best Kept Secret
Berkley, 9780425265505, 480pp.
Publication Date: March 3, 2015
About the Author
Stacey Ballis is the author of ten foodie novels: Inappropriate Men, Sleeping Over, Room for Improvement, The Spinster Sisters, Good Enough to Eat, Off the Menu, Out to Lunch, Recipe for Disaster, Wedding Girl, and How to Change a Life. She is a contributing author to three nonfiction anthologies: Girls Who Like Boys Who Like Boys, Everything I Needed to Know About Being a Girl I Learned from Judy Blume, and Living Jewishly.
What do you think about Anneke as the story's protagonist? Did you admire her? Why or why not? Cite specific examples.
If Grant had been unfaithful with a woman, would that have made his infidelity any better or worse? Would you have been able to forgive him in either situation?
Discuss the morality of Anneke's marriage to Jag. If you were in her shoes what would you have done?
What do you think were Liam's initial motivations in becoming a partner in the Palmer house? Do you think they were honest from the onset?
In the novel, Anneke forms new friendships and sustains her old ones. Consider these two circles of friends. What does Anneke gain from each?
How did Anneke and Jag's relationships with their parents affect who they become and the decisions they make? Discuss the positive and negative influences of the parents on each character.
Gemma's journal increasingly becomes a source of comfort and advice for Anneke. What is the significance of Anneke leaving it behind for the new owner?
Considering the book's title, what do you think was the "recipe for disaster" it refers to?
How did Anneke's character evolve throughout the novel? In what ways did the building of the house and her trials in the kitchen effect this development?
Construction is very much a man's world. How does Anneke stand her ground in the business? Did you agree with her actions at the MacMurphy offices?
What do you think was the turning point in Emily and Anneke's relationship? How did they influence each other?
In Recipe for Disaster, blood relations don't necessarily make someone family. Who do you consider family to Anneke by the novel's end? How important are blood relations in your life?
In the last chapter, Liam and Anneke's relationship is left ambiguous. Where do you think it's headed? Did their relationship surprise you?
Anneke cherishes the history of the Palmer house and works to honor it in her modern design. How do the past and present interweave in this novel? How does Gemma's journal fit into this connection?
Food plays a huge role in this novel. Do you have a favorite recipe from the book? What dishes and dining traditions does your family celebrate?
or
Not Currently Available for Direct Purchase