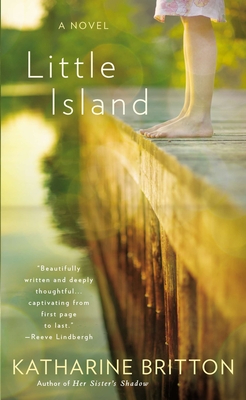 Little Island (Paperback)
Berkley, 9780425266359, 320pp.
Publication Date: September 3, 2013
* Individual store prices may vary.
Description
FROM THE AUTHOR OF HER SISTER'S SHADOW

Grace
Flowers
By the water
Have fun!

These are Joy's grandmother's last words—left behind on a note. A note that Joy's mother, Grace, has interpreted as instructions for her memorial service. And so, the far-flung clan will gather at their inn on Little Island, Maine, to honor her.

Joy can't help dreading the weekend. Twenty years ago, a tragedy nearly destroyed the family—and still defines them. Joy, Grace, her father Gar, and twins Roger and Tamar all have their parts to play. And now Joy, facing an empty nest and a nebulous future, feels more vulnerable than ever to the dangerous currents running through her family.

But this time, Joy will discover that there is more than pain and heartbreak that binds them together, when a few simple words lift the fog and reveal what truly matters…

 
About the Author
Katharine Britton teaches at the Institute of Lifelong Education at Dartmouth College, the Writer's Barn in Shelburne and the Writer's Center in White River, Vermont.  She has written three screenplays, one of which is a Moondance International Film Festival winner, and has a master's degree in creative writing from Dartmouth College.  She is the author of one previous novel, Her Sister's Shadow, and lives in Vermont. 
Praise For Little Island…
Praise for Little Island

"A story about the power of redemption and self-fulfillment. Ms. Britton understands everything there is to understand about the Maine coast, from the way fog 'both muffles and amplifies sound' to the fishing techniques of ospreys. Best of all, she understands how, through love, the human heart can overcome just about anything."—Howard Frank Mosher

"Such luscious writing I wanted to slow down to savor it…The complicated, flawed, generous Little family reminded me of my own, and how, in the midst of the risks and raptures and currents of life, we save one another."—Nancy Thayer, author of Island Girls

"A beautifully written and deeply thoughtful family story, enriched by Britton's acutely rendered details of a beloved natural landscape and her wise understanding of complex human hearts. The tale is touched with heartbreak but leavened with humor, and is captivating from first page to last."—Reeve Lindbergh, author of Under a Wing and Forward from Here: Leaving Middle Age—and Other Unexpected Adventures

Praise for Her Sister's Shadow

"The quintessential summer holiday book."—Sally Ryder Brady, author of A Box of Darkness

"A deeply satisfying read."—Ernest Hebert, author of The Old American and Never Back Down

"Evocative, compelling, and exquisitely written."—Joni B. Cole, coeditor of Water Cooler Diaries

"Both evocative and precise...A story of loss, grievance, and the permutations of time, rendered with disarming honesty."—Catherine Tudish, author of Tenney's Landing and American Cream 

"A touching, intricate account of painful memories that radically shapes lives."—Publishers Weekly
 
or
Not Currently Available for Direct Purchase