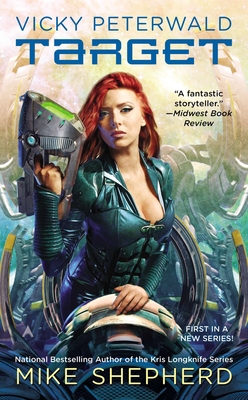 Vicky Peterwald (Mass Market)
Target (A Vicky Peterwald Novel #1)
Ace, 9780425266571, 336pp.
Publication Date: June 24, 2014
* Individual store prices may vary.
Description
The first installment in the Vicky Peterwald series

BEAUTY AND THE BATTLEFIELD

Her Imperial Highness the Grand Duchess Victoria Maria Teresa Inez Smythe-Peterwald, daughter of wealth and power, was raised to do little except be attractive and marry well. Then everything changed—her brother, her father's favorite and the heir apparent, was killed in battle by Lieutenant Kris Longknife, daughter of the Peterwald's longtime enemies. Vicky vowed revenge, but her skill set was more suitable for seduction than assassination, and she failed. Angry and disappointed, her father decided she needed military training and forced her to join the Navy.

Now Ensign Vicky Peterwald is part of a whole new world, where use of her ample charms will not lead to advancement. But her father is the Emperor, and what he wants he gets. What he wants is for Vicky to learn to be efficiently ruthless and deadly.

Though the lessons are hard learned, Vicky masters them—with help from an unexpected source: Kris Longknife.
About the Author
Mike Shepherd is a pseudonym for Mike Moscoe. Moscoe is a full-time writer who lives in the Pacific Northwest. He is the author of the Kris Longknife series including Kris Longknife: Defender, and the Jump Universe series including To Do or Die. 
Praise For Vicky Peterwald: Target (A Vicky Peterwald Novel #1)…
Praise for the Kris Longknife novels
 
"A whopping good read…Fast-paced, exciting, nicely detailed, with some innovative touches."—Elizabeth Moon, Nebula Award–winning author of Crown of Renewal
 
"Shepherd delivers no shortage of military action, in space and on the ground. It's cinematic, dramatic, and dynamic…[He also] demonstrates a knack for characterization, balancing serious moments with dry humor."—Tor.com
 
"Readers have come to depend on Mike Shepherd for fast-paced military science fiction bound to compelling story lines and adrenaline-pumping battles…Kris Longknife is a hero to the core."—Fresh Fiction
 
"Kris is a strong female character…The book focuses on action, with some interesting sci-fi twists thrown in…It excels as a page-turner."—Fantasy Book Spot
 
"Fans of the Honor Harrington escapades will welcome the adventures of another strong female in outer space starring in a thrill-a-page military space opera…The audience will root for the determined, courageous, and endearing heroine as she displays intelligence and leadership during lethal confrontations."—Alternative Worlds