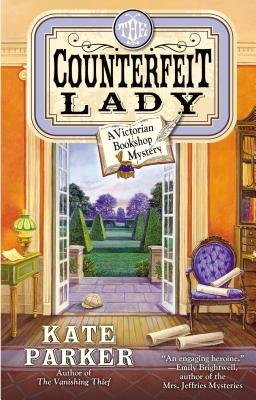 The Counterfeit Lady (A Victorian Bookshop Mystery #2) (Paperback)
Berkley, 9780425266618, 320pp.
Publication Date: August 5, 2014
* Individual store prices may vary.
Description
Who would suspect antiquarian bookseller Georgia Fenchurch of leading a double life—as a private investigator for the clandestine Archivist Society in Victorian London? When England's national security is compromised, Georgia must pose as a titled lady to root out a spy...

A cousin of Georgia's dear friend, Lady Phyllida Monthalf, is brutally murdered in her home during the theft of blueprints of a new battleship designed by her husband—who now stands accused of her murder…and treason. The Duke of Blackford, in service to Whitehall, enlists Georgia and the Archivist Society to assist in the investigation. Playing the part of the duke's new paramour, Georgia gains entry into the upper echelons of London's elite, where amidst elegant dinners and elaborate parties a master spy schemes to lay hands on the stolen plans.

The duke is no stranger to the world of international espionage, but Georgia is out of her element in more ways than one. She must not allow her genuine attraction to the duke—or her obsession with finding her parents' killer—to distract her from her role. But when a mysterious stranger threatens to expose her, the counterfeit lady may be in real trouble...
About the Author
While other girls read Sleeping Beauty and Snow White, Kate Parker was poring over her mother's Agatha Christie paperbacks. She fell in love with the England of Arthur Conan Doyle and Dorothy Sayers along with all that delectable murder and mystery. Combined with the historical nonfiction that was her father's reading choice, Kate became hooked for life on historical mysteries. When she leaves late Victorian London, Kate finds herself living with the love of her life amid the rivers, swamps, and sand of coastal Carolina. Kate's nineteenth century hometown is beautiful, but research has taught her to be grateful her home comes with twenty-first century conveniences.
Praise For The Counterfeit Lady (A Victorian Bookshop Mystery #2)…
Praise for the Victorian Bookshop Mystery Series

"An engaging heroine."—New York Times Bestselling Author Emily Brightwell

"Engrossing."—Publishers Weekly

"Delightful adventure in Victorian England."—National Bestselling Author Victoria Thompson