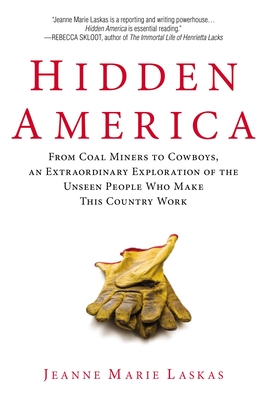 Hidden America (Paperback)
From Coal Miners to Cowboys, an Extraordinary Exploration of the Unseen People Who Make This Country Work
Berkley, 9780425267271, 336pp.
Publication Date: September 3, 2013
Other Editions of This Title:
Digital Audiobook (9/12/2012)
Hardcover (9/13/2012)
Library Binding, Large Print (10/1/2016)
* Individual store prices may vary.
Description
An Oprah.com "Must-Read Book"

Award-winning journalist Jeanne Marie Laskas reveals "enlightening, entertaining, and often poignant"* profiles of America's working class—the forgotten men and women who make our country run.

Take the men of Hopedale Mining company in Cadiz, Ohio. Laskas spent several weeks with them, both below and above ground, and by the end, you will know not only about their work, but about Pap and his dying mom, Smitty and the mail-order bride who stood him up at the airport, and Scotty and his thwarted dreams of becoming a boxing champion.

That is only one hidden world. Others that she explores: an Alaskan oil rig, a migrant labor camp in Maine, the air traffic control center at LaGuardia Airport in New York, a beef ranch in Texas, a landfill in California, a long-haul trucker in Iowa, a gun shop in Arizona, and the Cincinnati Ben-Gals cheerleaders, mere footnotes in the moneymaking spectacle that is professional football.

"Jeanne Marie Laskas is a reporting and writing powerhouse. She doesn't just interview the people who dig our coal and extract our oil, she goes deep into the mines and tundra with them. With beauty, wit, curiosity, and grace, she finds the hidden soul of America. Hidden America is essential reading."—Rebecca Skloot, author of The Immortal Life of Henrietta Lacks 
About the Author
Jeanne Marie Laskas is the New York Times bestselling author of six books including Hidden America and Concussion, which inspired the Golden Globe-nominated film. Formerly a contributing editor at Esquire, and a syndicated weekly columnist at The Washington Post Magazine, she has been writing for national magazines for 20 years, with work appearing in The New Yorker, The New York Times Magazine, Smithsonian Magazine, O: The Oprah Magazine, Allure, Ladies Home Journal, and many others. Her work has appeared in numerous anthologies, including Best American Magazine Writing 2008 and Best American Sportswriting 2000, 2002, 2008, 2010 and 2012. She has won more than a dozen Gold Quill awards for Excellence in Journalism, and her piece about coal mining, "Underworld," was a finalist in feature writing for the 2007 National Magazine Awards. Her earliest essays and features are compiled in The Balloon Lady and Other People I Know. 

Laskas writes regularly for The New Yorker, The New York Times Magazine, and GQ, where she is a correspondent.  She is a professor at the University of Pittsburgh, where she is director of The Writing Program, and founding director of The Center for Creativity. She lives on a horse farm with her husband and two daughters.
Praise For Hidden America: From Coal Miners to Cowboys, an Extraordinary Exploration of the Unseen People Who Make This Country Work…
"A literary miracle. In effortlessly lucid prose, Laskas tells stories that spellbind precisely because they remind us of the center that quietly holds America together."—Robert Draper, author of Do Not Ask What Good We Do

"In this thoroughly entertaining study of what some people do that other people would never do, journalist Laskas makes her subjects sing."—Publishers Weekly (starred review)

"Each of these profiles rings true."—*The Huffington Post

"At a time when American workers seem most prized for their ability to serve as campaign props, Hidden America comes as a breath of fresh air with no political slant, no hidden motive."—Pittsburgh Post-Gazette

"Hearing [these] voices, it's impossible not to see the world a little differently."—The Daily Beast, Hot Read

"It's not a stretch to use the name Studs Terkel in the same sentence with the name Jeanne Marie Laskas. She's one hell of a journalist, a world-class storyteller. This is not just a good read, it's an important one."—Linda Ellerbee

"At once heartwarming, funny, sad, ironic, and most of all, insightful."—Bob Schieffer

"A finely crafted look behind the curtains of everyday life—think Dirty Jobs for the literate set."—Mike Sager, author of The Someone You're Not

"A wondrous book, fierce and intimate in its investigations...Like Studs Terkel if he wrote novels and Tom Wolfe if he wrote about working folk."—Ron Carlson, author of Five Skies and The Signal