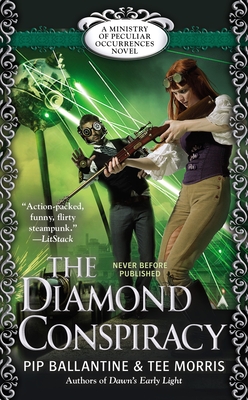 The Diamond Conspiracy (A Peculiar Occurrences Novel #2) (Mass Market)
Ace, 9780425267325, 368pp.
Publication Date: March 31, 2015
* Individual store prices may vary.
Description
For years, the Ministry of Peculiar Occurrences has enjoyed the favor of Her Majesty the Queen. But as agents Brooks and Braun soon learn in the fourth novel in the steampunk adventure series, even the oldest loyalties can turn in a moment…

Having narrowly escaped the electrifying machinations of Thomas Edison, Books and Braun are looking forward to a relaxing and possibly romantic voyage home. But when Braun's emergency signal goes off, all thoughts of recreation vanish. Braun's street-wise team of child informants, the Ministry Seven, is in grave peril, and Books and Braun must return to England immediately.

But when the intrepid agents finally arrive in London, the situation is even more dire than they imagined. The Ministry has been disavowed, and the Department of Imperial Inconveniences has been called in to decommission its agents in a most deadly fashion. The plan reeks of the Maestro's dastardly scheming. Only, this time, he has a dangerous new ally—a duplicitous doctor whose pernicious poisons have infected the highest levels of society, reaching even the Queen herself...
About the Author
Philippa (Pip) Ballantine is the author of the Book of the Order series, the Shifted World series, the Chronicles of Art series, and—with Tee Morris—the coauthor of the Ministry of Peculiar Occurrences series. Her podcast of Chasing the Bard won the Sir Julius Vogel Award in 2009, and two of her novels have been short-listed for it. Originally from New Zealand, she now resides in Virginia with her husband, her daughter, and a mighty clowder of cats.

Tee Morris is the author of Morevi: The Chronicles of Rafe and Askana and the co-author of the Ministry of Peculiar Occurrences novels. In addition to his work as a fantasist, he is also a social media pioneer and the author of Podcasting for Dummies and All a Twitter.
Praise For The Diamond Conspiracy (A Peculiar Occurrences Novel #2)…
Praise for the Ministry of Peculiar Occurrences novels

"A good bet for steampunk fans."—Library Journal

"Full of action, explosions and deceit."—Seattle Geekly

"Extensive worldbuilding, multi-faceted characters, fast-paced action, and an engaging plot all make for a thrilling, absorbing read."—RT Book Reviews

"Cute and charming, interspersed with sequences of dire peril and explosive action...You don't want to miss a delicious moment of the story."—Kings River Life

"[A] thrilling and labyrinth detective romp laced with humor, feminine moxie, and mayhem. The prose is Dickens on steroids, yet it somehow grips the reader...A dark and twisted roller coaster of a read for those fond of elegant vernacular and bizarre weaponry."—Fangoria

"Anyone who was a fan of the adventure in the Blades of the Rose series and the dynamic in the Sherlock Holmes movie might want to check this series out."—Fiction Vixen Book Reviews

"This is steampunk done right, down to every last detail...Action-packed with edge-of-your-seat excitement."—Badass Book Reviews
 
"[A] rollicking adventure series of the finest order."—The Ranting Dragon