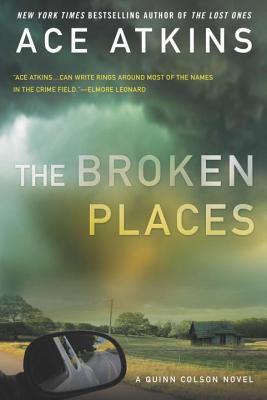 The Broken Places (Paperback)
Berkley Publishing Group, 9780425267752, 369pp.
Publication Date: March 4, 2014
Description
For fans of Justified and James Lee Burke: THE NEW YORK TIMES BESTSELLING SERIES FEATURING "A HERO TO RIVAL JACK REACHER."--Kirkus Reviews "Keep an eye on Ace Atkins, he can write rings around most of the names in the crime field."--Elmore Leonard
A year after becoming sheriff of Tibbehah County, Mississippi, Quinn Colson is faced with a pardoned killer's return to Jericho. Jamey Dixon now preaches redemption and forgiveness, but the family of the woman he was convicted of killing isn't buying it. They warn Quinn that his sister's relationship with Dixon could be fatal. Others don't think the new preacher is a changed man, either--a couple of dangerous convicts who confided in Dixon about an armored car robbery believe he's after the money they hid. So they do the only thing they can: break out and head straight to Jericho, leaving a trail of bodies in their wake. Colson and his deputy, Lillie, have their work cut out for them. But they don't count on one more unwelcome visitor: a tornado that causes havoc just as the manhunt heats up. Communications are down, the roads are impassable--and the rule of law is just about to snap.
About the Author
Ace Atkins, a former Pulitzer-nominated journalist, has written twelve previous novels, including The Ranger and The Lost Ones, the Edgar-nominated first novels in the Quinn Colson series. In 2011, he was selected by the Robert B. Parker Estate to continue the iconic Spenser series, which he has done with the bestsellers Robert B. Parker's Lullaby and Robert B. Parker's Wonderland. His previous novels include the historical crime novels, White Shadow, Wicked City, Devil's Garden, and Infamous, and the Nick Travers series that launched his writing career. Atkins lives in Oxford, Mississippi.
Praise For The Broken Places…
Praise for Ace Atkins and the Quinn Colson Novels

"A series that should push him to the top of the bestseller list."—John Sandford

"One of the best crime writers at work today."—Michael Connelly

"Compares to the best of Max Allan Collins or Elmore Leonard."--Library Journal

"[Ace Atkins] has solidified his place alongside Dennis Lehane and George Pelecanos as one of our most important literary crime novelists." —San Francisco Chronicle

"Ace Atkins goes straight for the throat in The Lost Ones."—The Houston Press

"Atkins' sense of place is superb, his story stark and suspenseful."—Milwaukee Journal Sentinel

"In the same class as James Crumley and James Lee Burke. Atkins."—Bookreporter.com

"Quinn Colson is a character I look forward to meeting again."—Tampa Bay Times

"Masterful."—Memphis Commercial-Appeal

"Goes for extreme thrills, complemented by in-depth character studies and a view to the motives that turns ordinary people corrupt. Lee Child's Jack Reacher and Greg Iles' Penn Cage will find a kindred spirit in U.S. Army Ranger Quinn Colson, Atkins' new take-charge hero." —South Florida Sun-Sentinel

"Southern-fried noir." —The Washington Post

"A dark, headlong crime story set in the Mississippi hill country and teeming with corrupt officials, murderous meth dealers and Southern femmes fatales." —St. Petersburg Times

"Has the down-and-dirty vibe of a '70s drive-in action picture." —The Dallas Morning News
Advertisement