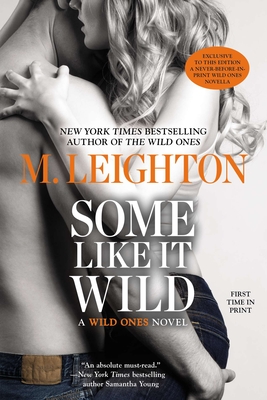 Some Like It Wild (A Wild Ones Novel #2) (Paperback)
Berkley, 9780425267813, 384pp.
Publication Date: March 4, 2014
Other Editions of This Title:
Compact Disc (3/4/2014)
MP3 CD (9/23/2014)
MP3 CD (3/4/2014)
Compact Disc (3/4/2014)
* Individual store prices may vary.
Description
EXCLUSIVE TO THIS EDITION--A NEVER-BEFORE-IN-PRINT WILD ONES NOVELLA 

First was The Wild Ones. Now, the next book in M. Leighton's Wild Ones series...

How far will a good girl go for the bad boy she loves?

Laney Holt is a preacher's daughter. A good girl. Her only goal was to get married, have babies, and live happily ever after, just like her parents. Only that didn't happen. The two people closest to her betrayed her, and Laney's dreams came crashing down. Now she's left with an empty space she doesn't know how to fill. Until she meets Jake Theopolis, a daredevil with a death wish who has heartbreaker written all over him.

Jake has no interest in thinking beyond the here and now. All he wants out of life is the next rush, the next "feel-good" thing to keep his mind off the pain of his past. His latest rush? Showing Laney there's more to life than being a good girl—and that going bad can be so much fun. Her only concern now is how she can ever hope to satisfy the wild side of a boy like Jake. She's looking forward to trying. And so is Jake.

If you love The Wild Ones, you'll be just as wild for M. Leighton's Bad Boys series which includes Down to You, Up to Me, and Everything for Us.
About the Author
New York Times and USA Today bestselling author M. Leighton is a native of Ohio. She relocated to the warmer climates of the South, where she can be near the water all summer and miss the snow all winter. Possessed of an overactive imagination from early in her childhood, Michelle finally found an acceptable outlet for her fantastical visions: literary fiction. Having written over a dozen novels, Michelle enjoys letting her mind wander to more romantic settings with sexy Southern guys, much like the one she married and the ones you'll find in her latest books: the first in her Wild Ones series, The Wild Ones, and her Bad Boys novels, Down to You, Up to Me, and Everything for Us. When her thoughts aren't roaming in that direction, she'll be riding wild horses, skiing the slopes of Aspen or scuba diving with a hot rock star, all without leaving the cozy comfort of her office.
Praise For Some Like It Wild (A Wild Ones Novel #2)…
M. LEIGHTON IS...

"A PHENOMENAL WRITER."—Bookish Temptations

"QUICKLY BECOMING ONE OF MY FAVORITE CONTEMPORARY ROMANCE WRITERS."—Reading Angel

"INSANELY INTENSE."—The Bookish Babe

"FREAKIN' HOT!"—Nette's Bookshelf

AND "SERIOUSLY SCANDALICIOUS."—Scandalicious Book Reviews

Praise for The Wild Ones

"This book is worth every second I spent reading it. Ms. Leighton is a phenomenal writer and I cannot give her enough praise."—Bookish Temptations

"Hands down one of the hottest books I've read all summer…Complete with love, secrets, dreams and hidden pasts! The Wild Ones is romantic, sexy and absolutely perfect!!! Drop everything and read this RIGHT NOW!"—The Bookish Brunette

"I can honestly tell you that this is one of my top books of the year and easily one of my new all-time favorites. I couldn't put the book down."—The Autumn Review

"You will laugh, swoon and even shed a few tears. M. Leighton knows how to write an amazing story. Get your copy of The Wild Ones today. You will not regret it."—Between the Page Reviews

"This book was one of the best books I've read this year. It may sound like just a love triangle on the surface but inside there's so much more going on."—The Book Vixen

"One of the best books I've read this year so far."—Sim Sational Books

Praise for M. Leighton's Bad Boy novels Down to You, Up to Me, and Everything for Us

"Scorching hot… insanely intense… and it is shocking. Shocking!"—The Bookish Babe

"I definitely did NOT see the twists coming."—The Book List Reviews

"Brilliant."—The Book Goddess

"Leighton never gives the reader a chance to catch their breath…Yes, there is sex, OMG tongue hanging out of mouth, scorching sex."—Literati Literature Lovers

"Well, I drank this one down in one huge gulp…and it was delicious…seriously scandalicious."—Scandalicious Book Reviews

"Delicious…I stopped reading in order to grab a cold beer and cool off…the twists and turns on the plot line are brilliant."—Review Enthusiast

"OMG! It was freakin' hot!"—Nette's Bookshelf

"Steamy, sexy and super hot! M. Leighton completely and absolutely knocked [it] out of the park."—The Bookish Brunette

"Scorching hot…an emotional roller coaster."—Reading Angel

"I devoured it, and I'm pretty sure you will too."—For Love and Books

"Prepare yourself to be blown away."—My Keeper Shelf

"I loved it... bring on the Davenport boys."—Smexy Books