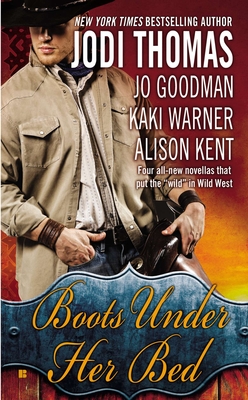 Boots Under Her Bed
Mass Market

* Individual store prices may vary.
Description
From four acclaimed authors come four all-new novellas featuring the rugged men of the West and the women who want them…

From Jodi Thomas...Callie has done a lot of crazy things, but it'll take one more to prove she isn't nuts: find a husband, fast! Her only requirement: he has to be taller than she is and swear not to have her committed during their ruse of a marriage.

From Jo Goodman...Felicity Ravenwood was raised to be independent-minded, but when this runaway bride opposes her father's choices, it is up to Nat Church to bring her around. But he doesn't count on springing her from jail, holding her hostage, or falling head over boot-heels in love.

From Kaki Warner...Two strangers on a train have more in common than they know—both have hidden purposes and ties to a Nebraska bank robbery. But when their schemes unravel, they find a bigger surprise awaiting them than either could have imagined.

From Alison Kent...When runaway New York socialite Maeve Daugherty joins her father's bodyguard Zeb Crow on his personal mission of revenge, what was a slightly scandalous new life as a bookkeeper for an infamous San Antonio brothel becomes downright dangerous. But that's not stopping Maeve from having the time of her life.
Praise For Boots Under Her Bed…
Praise for Boots Under Her Bed

"The unpredictable, rough-and-tumble aspects of life in the Wild West come through in this diverse quartet of engaging novellas. A resourceful heroine, anxious to wed, is not nearly so crazy as people think in Thomas's touching 'Crazy Callie'; the hero of Jo Goodman's fictional dime novels mentioned in her other works springs to life-and falls in love-in her engaging 'dime novel''Nat Church and the Runaway Bride'; a bold bank robbery links two strangers on the train west in Kaki Warner's clever, sexy 'The Scent of Roses'; and a fugitive New York heiress and the security guard who tracks her down at a Texas brothel are caught up in violence in Alison Kent's 'The Hired Gun's Heiress'. ­VERDICT This excellent, action-packed anthology from some of the genre's favorite writers should please fans and garner new ones."—Library Journal

Praise for the novels of Jodi Thomas
 
"Count on Jodi Thomas to give you a satisfying and memorable read."—New York Times bestselling author Catherine Anderson

Praise for the novels of Kaki Warner

"Flawlessly written."—Chicago Tribune

Praise for the novels of Jo Goodman

"For the pure joy of reading a romance, this book comes close to being some kind of perfection."—Dear Author

Praise for the novels of Alison Kent

"One of my writing idols—consistently awesome, always on my auto buy list!"—Lauren Dane, USA Today bestselling author
Berkley, 9780425267844, 352pp.
Publication Date: January 7, 2014
About the Author
New York Times bestselling author Jodi Thomas is a fifth-generation Texan who sets many of her stories in her home state, where her grandmother was born in a covered wagon. She is a certified marriage and family counselor, a Texas Tech graduate and writer-in-residence at West Texas A&M University. She lives with her husband in Amarillo, Texas.

Jo Goodman is the USA Today bestselling author of numerous romance novels. When not writing, she is a licensed professional counselor working with children and families in West Virginia's Northern Panhandle.

Kaki Warner is a an award-winning author of numerous romance novels. A longtime resident of the Pacific Northwest, she now lives on the eastern slopes of the Cascade Mountains in Washington, but Kaki grew up in the Southwest, and is a proud graduate of the University of Texas. She spends her time gardening, reading, writing, and making lists of stuff for her husband to do while she soaks in the view from the deck of her hilltop cabin.

Alison Kent is the bestselling author of nearly fifty novels across many genres.