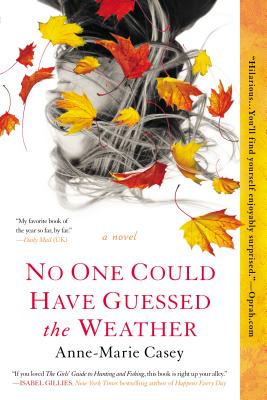 No One Could Have Guessed the Weather
Paperback

* Individual store prices may vary.
Other Editions of This Title:
Digital Audiobook (6/12/2013)
Hardcover (6/13/2013)
Description
"If you loved The Girls' Guide to Hunting and Fishing, this book is right up your alley."—Isabel Gillies, New York Times bestselling author of Happens Every Day

A KIRKUS REVIEWS BEST BOOK OF THE YEAR!

From the author of The Real Liddy James comes a novel about how the middle part of your story might just be the beginning…

After her husband loses his job, Lucy has to leave behind her posh life in London and settle into a tiny East Village apartment. Now she's a middle-aged mother in the midst of hipsters, homesick and resentful until she embarks on a new love affair—with New York City and three new friends.
Julia has left her family for a mini breakdown and a room of her own. Trophy wife Christy is a bit adrift, as only those who live in penthouses can be. Robyn is constantly compensating for her wunderkind husband who can't seem to make the transition to adulthood. And all of them are starting to learn that what you want in your twenties isn't always what you need in your forties…

Includes a readers guide
Praise For No One Could Have Guessed the Weather…
"My favorite book of the year so far, by far."—
Daily Mail
(UK)
"Clever and witty: the best kind of summer book." —
Kirkus Reviews
"This is a charming debut about building a new life with a young family in New York, making new female friends, falling in love with the city and rebuilding a marriage. It is refreshingly positive, very much Allison Pearson territory." —
Bookseller
"Hilarious…You'll find yourself enjoyably surprised."—Oprah.com
"Casey's bright witty writing and scalpel-sharp insights create a quick pace. . . . Casey's debut leaves the reader eager for more." —
Publishers Weekly
"Casey's convivial prose will have girlfriends enthusiastically passing this book between each other."—
Minneapolis Star Tribune
"If you loved The Girls' Guide to Hunting and Fishing, this book is right up your alley. Casey, with humor and a keen, thoughtful eye, deftly sews together intricate plotlines, true characters, and spot-on, hilarious details into a marvelous quilt you want to snuggle under all afternoon." —Isabel Gillies, New York Times–bestselling author of Happens Every Day

 "Anne-Marie Casey is my favorite kind of writer—smart, funny, brilliantly observant, and totally unpredictable. . . . I suggest savoring slowly: Casey packs more wit and wisdom into each page than most writers fit into an entire novel." —Stephen McCauley, author of Object of My Affection

"Anne-Marie Casey has written a woman's guide to living and loving. . . . Casey's humor is like cream on a scone, there's bite but it's also delicious. Readers will find themselves on these pages and revel in the connection. . . .  I loved it." —Adriana Trigiani, New York Times–bestselling author of The Shoemaker's Wife

"Very smart, very savvy, and very, very funny. I loved this book and couldn't put it down." —Rosamund Lupton, bestselling author of Sister
"Fabulously clever, brilliantly observed ... wise, funny women's fiction from an important new voice." —Cathy Kelly, #1 international bestselling author of Homecoming
"I absolutely loved No One Could Have Guessed the Weather. It was sophisticated, witty, with a sharp eye for the ridiculous. I loved it." —Katie Fforde, bestselling author of Wedding Season

 
G.P. Putnam's Sons, 9780425268513, 304pp.
Publication Date: April 1, 2014
About the Author
Anne-Marie Casey was a script editor and producer of prime-time television drama. No One Could Have Guessed the Weather, her first book, was inspired by her time living in Manhattan and her love-love relationship with the city. She is married to the novelist Joseph O'Connor. They live in Dublin with their two sons.
Which of the four main characters-Lucy, Julia, Christy, and Robyn-did you most relate to, and why? Did you find a little of each of them in you? Did you learn anything new about yourself while reading about these women?
In the chapter "Surrendered Lives," Lucy is reminded of a quotation from George Eliot's novel Middlemarch describing the feeling of all ordinary life: the "roar which lies on the other side of silence." How does this relate to the actions of the four main characters?
In addition to Middlemarch, Anne-Marie Casey refers in the book to two other nineteenth-century novels: Madame Bovary, the tragic story of a woman trapped in an unhappy marriage and an unfulfilling provincial life in France, and The Age of Innocence, a story of the manners and morals of upper-class New Yorkers. Why do you think she does this? What point is she trying to make by linking her book with these classics that examine women in society?
How do you feel about the book's portrayal of female friendships? Do you think Julia and Christy's friendship will survive? How important is friendship among women in today's world?
At one point Robyn reflects that "for so long she had wanted nothing more than to sit with the cool girls at the back of the school bus," but she realizes now that "she could have all along. It was not them stopping her. It was her." Did you relate to this? Do most women think there are "cool girls at the back of the school bus" at every stage in their lives?
Robyn is the most active character in the book: she hatches a plan and then follows it through. Did you sympathize with her situation at the beginning? Why does she behave as she does? Is she Machiavellian or just practical? Do any of the other characters really like Robyn? Do you?
The novel is often funny-"She had always found certainty enormously erotic (she had had a secret two-week crush on George W. Bush in his leather Air Force jacket)"-and the author has a very breezy tone. Yet she tackles significant subjects: the death of a parent, marriage, divorce, infidelity, women in the workforce. Were you surprised by how many serious topics the book takes on?
A line on the book's jacket says, "Sometimes what you want in your twenties isn't what you want or need in your forties." Do you think that's true? What did you want when you were younger? And how is that different from what you want and need now that you're older?
What does Lucy's Englishness contribute to the book? How does her "outsider" status affect how she interacts with the other characters? How does it shape how she feels about herself? Does her take on U.S. culture, and women and parenting in particular, differ from that of the other characters because she is foreign?
Julia is the character for whom motherhood and work (her desire and her ambition) create the most conflict. How did you respond to her story? Why does she have to leave New York City at the end?
For a book about four mothers, there's very little discussion of children, or attention paid to them; in fact, "Julia and Christy never mentioned their children unless they absolutely had to." Why is that? Are they bad mothers?
In her author biography, Anne-Marie Casey says the book was inspired by her experiences living in Manhattan and her "love/love relationship with the city." In what ways is this evident in her portrayal of New York City? Does it feel like a character to you?
Consider Christy's relationship with Vaughn. Why doesn't she confront him about his mistress? Does she lust after her doorman solely because he's more age-appropriate? Will having another baby make her happy? Do you think it's selfish for someone her age (and Vaughn's) to have a baby?
What did you think of the portrayal of men in the book? How and why do you think Lucy and Richard's marriage changes in the course of the story? Do you agree with Julia that they are the happiest couple she knows?
All of the women confront the next chapter of their lives: "Lucy still found herself considering Is that all there is? and wanted something more, something that was not just about financial independence, though that was certainly a desire that had been reawakened in her, but [that] would give her the confidence to sashay through middle age like Tina Turner, with her skirts hiked above her fantastic legs. Julia encouraged her in this determination. 'What are we all meant to do, Lucy?' she would say. 'Lie down and die? I don't think so.' Lucy didn't think so, either." Do you think women deal with "mid-life crises" differently from how men do? Why or why not?
Is Lucy's desire to become a writer surprising to you? Do you agree with her idea-which is ultimately the idea of the book-that the ordinary lives of women can and should be the stuff of entertaining yet thought-provoking fiction?
or
Not Currently Available for Direct Purchase