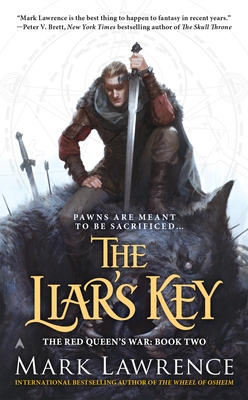 The Liar's Key (The Red Queen's War #2) (Mass Market)
Ace, 9780425268810, 496pp.
Publication Date: May 31, 2016
Other Editions of This Title:
Digital Audiobook (6/1/2015)
Hardcover (6/2/2015)
* Individual store prices may vary.
Description
From the international bestselling author of the Broken Empire trilogy comes the second book of the Red Queen's War...
 
After harrowing adventure and near death, Prince Jalan Kendeth and the Viking Snorri ver Snagason find themselves in possession of Loki's key, an artefact capable of opening any door and sought by the most dangerous beings in the Broken Empire—including the Dead King.

Jal wants only to return home to his wine, women, and song, but Snorri has his own purpose for the key: to find the very door into death, throw it wide, and bring his family back into the land of the living.

And as Snorri prepares for his quest to find death's door, Jal's grandmother, the Red Queen, continues to manipulate kings and pawns toward an endgame of her own design...
About the Author
Mark Lawrence is a research scientist working on artificial intelligence. He is a dual national with both British and American citizenship, and has held secret-level clearance with both governments. At one point, he was qualified to say, "This isn't rocket science—oh wait, it actually is." He is the author of the Broken Empire trilogy (Prince of Thorns, King of Thorns, and Emperor of Thorns), the Red Queen's War trilogy (Prince of Fools, The Liar's Key, and The Wheel of Osheim) and the Book of the Ancestor series (Red Sister).
Praise For The Liar's Key (The Red Queen's War #2)…
Praise for Mark Lawrence and The Red Queen's War

"Mark Lawrence is the best thing to happen to fantasy in recent years."—New York Times bestselling author Peter V. Brett

"Lawrence's epic fantasy is a great summer read, full of humor, revenge, and perils that this warrior-and-coward duo must evade in order [to] save their kingdoms and themselves."—The Washington Post

"Exciting action and quick-witted dialog make it a fantastic summer page-turner."—Library Journal (starred review)

"Jalan Kendeth is a fine addition to this Loki-like roster of tricksters, knaves, and cowards: heroes and antiheroes we love to hate and hate to love...Mark Lawrence's growing army of fans will relish this rollicking new adventure and look forward to the next one."—The Daily Mail

"As richly told as the earlier trilogy: The author makes this place, a post-cataclysm earth of the far future, feel as real as any place you've ever visited. For fans of the Broken Empire series and readers who enjoy a good, epic-sized fantasy story (readers of, say, George R. R. Martin), this is a must-read."—Booklist

"Shrewd Jalan and honorable Snorri make a marvelous team, lightening a very dark story with wry humor. The brisk adventure and black magic will leave readers eager for the next chapter in the series."—Publishers Weekly