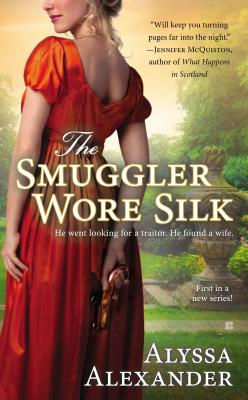 The Smuggler Wore Silk (A Spy in the Ton Novel #1) (Mass Market)
Berkley, 9780425269527, 304pp.
Publication Date: January 7, 2014
* Individual store prices may vary.
Description
A thrilling, seductive adventure from award-winning author Alyssa Alexander…

After he is betrayed by one of his own, British spy Julian Travers, Earl of Langford, refuses to retire without a fight, vowing to find the traitor. But when the trail leads to his childhood home, Julian is forced to return to a place he swore he'd never see again, and meet a woman who may be his quarry—in more ways than one.

Though she may appear a poor young woman dependant on charity, Grace Hannah's private life is far more interesting. By night, she finds friendship and freedom as a member of a smuggling ring. But when the handsome Julian arrives, she finds her façade slipping, and she is soon compromised, as well as intrigued.

As she and Julian continue the hunt, Grace finds herself falling in love with the man behind the spy. Yet Julian's past holds a dark secret. And when he must make a choice between love and espionage, that secret may tear them apart.
About the Author
Despite being a native Michigander, Alyssa Alexander is pretty certain she belongs somewhere sunny. And tropical. Where drinks are served with little paper umbrellas. But until she moves to those white, sandy beaches, she survives the cold Michigan winters by penning romance novels that always include a bit of adventure. She lives with her own set of heroes, aka an ever-patient husband who doesn't mind using a laundry basket for a closet and a small boy who wears a knight-in-shining-armor costume for such tasks as scrubbing potatoes.
Praise For The Smuggler Wore Silk (A Spy in the Ton Novel #1)…
"Alexander has all the pieces of the ideal romance and arranges them in the perfect picture. She is a rising star you won't want to miss."—Romantic Times Book Reviews

"Well drawn characters, superb dialogue, and a decent plot will keep pages turning."—Publishers Weekly

"Debut author Alyssa Alexander captivates with a potently drawn Regency suspense that will keep you turning pages far into the night. With perfectly paired protagonists—including a fallen spy and an indomitable smuggler heroine—Alexander delivers a lively, twisting romance with an undercurrent of gritty realism. With wicked dialogue and well-researched historical facts, Alexander is clearly an author we ought to watch and read."—Jennifer McQuiston, author of What Happens in Scotland