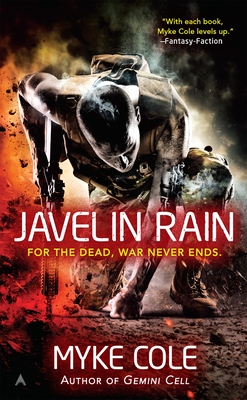 Javelin Rain (Shadow Ops
Reawakening #2)
Mass Market

* Individual store prices may vary.
Description
The fast-paced, adrenaline-filled sequel to Gemini Cell, set in the same magical and militaristic world of the acclaimed Shadow Ops series.
 
Javelin: A code denoting the loss of a national security asset with strategic impact.
 
Rain: A code indicating a crisis of existential proportions.
 
Javelin Rain incidents must be resolved immediately, by any and all means necessary, no matter what the cost...
 
Being a US Navy SEAL was Jim Schweitzer's life right up until the day he was killed. Now, his escape from the government who raised him from the dead has been coded "Javelin Rain." Schweitzer and his family are on the run from his former unit, the Gemini Cell, and while he may be immortal, his wife and son are not.
 
Jim must use all of his strength to keep his family safe, while convincing his wife he's still the same man she once loved. But what his former allies have planned to bring him down could mean disaster not only for Jim and his family, but for the entire nation...
Praise For Javelin Rain (Shadow Ops: Reawakening #2)…
Praise for Gemini Cell
 
"The best novel [Cole's] written so far...A military fantasy that combines intense personal anguish with elements of actual horror."—Tor.com
 
"Myke Cole's novels are like crack: they're highly addictive, and this one is no exception."—Buzzfeed

"Character-rich and action-driven–a Molotov cocktail of human weaknesses and superhuman abilities."–-Robin Hobb, author of Fool's Assassin

"Intense and explosive–Cole tells a hell of a story."—Mark Lawrence, international bestselling author of The Liar's Key
 
"The story is a powerful one...[Cole] takes some oft-maligned tropes of military adventure fiction and shows us how those things are supposed to be done."—Howard Tayler, award-winning creator of webcomic Schlock Mercenary
 
"Think Vince Flynn plus a whole lot of magic mixed in and baked in hellfire, and you've got the gist of how awesome Myke Cole's new series is shaping up to be."—Michael Patrick Hicks, author of Emergence
Ace, 9780425269657, 352pp.
Publication Date: March 29, 2016
About the Author
As a security contractor, government civilian, and military officer, Myke Cole's career has run the gamut from counterterrorism to cyber warfare to federal law enforcement. He's done three tours in Iraq and was recalled to serve during the Deepwater Horizon oil spill. He recently joined the cast of the TV show Hunted on CBS as part of an elite team of fugitive hunters. All that conflict can wear a guy out. Thank goodness for fantasy novels, comic books, late-night games of Dungeons & Dragons, and lots of angst-fueled writing. Myke is the author of Javelin Rain and Gemini Cell, prequels to his Shadow Ops novels, which include Breach Zone, Fortress Frontier, and Control Point.