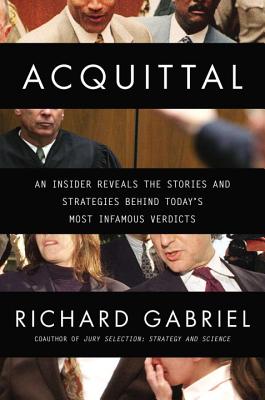 Acquittal (Hardcover)
An Insider Reveals the Stories and Strategies Behind Today's Most Infamous Verdi cts
Berkley, 9780425269718, 336pp.
Publication Date: June 3, 2014
Other Editions of This Title:
Paperback (6/2/2015)
* Individual store prices may vary.
Description
October 3, 1995. The shocking outcome of the O.J. Simpson trial leaves a nation divided. July 5, 2011. Casey Anthony walks free despite being convicted by millions on cable news and social media.

There are times when something as supposedly simple as a just verdict rises to the level of cultural touchstone. Often these moments hinge on logic that seems flawed and inexplicable—until now. In Acquittal, leading trial consultant Richard Gabriel explains how some of the most controversial verdicts in recent times came to be.

Drawing on more than twenty-eight years of experience, Gabriel provides firsthand accounts of his work on high-profile cases, from the tabloid trials of Casey Anthony, O.J. Simpson, Phil Spector, and Heidi Fleiss to the political firestorms involving Enron and Whitewater. An expert on court psychology and communications, Gabriel offers unique insights on defendants, prosecutors, judges, witnesses, journalists, and the most important people in the room: the jury.

Through play-by-play breakdowns of the proceedings, Gabriel reveals the differences between a court of law and the court of public opinion, the convoluted mechanics behind jury selection, strategies for creating a careful balance of evidence and doubt, and the difficulties of providing a fair trial in the digital age. Along the way, Gabriel raises hard questions about not only the legal system but about the possibility of justice in an oversaturated media landscape.

The courtroom is a natural theater. The stakes are high. The roles are all too familiar. And there is always the chance of a twist ending. Acquittal is a revelatory guide to this riveting, frustrating, fascinating world—the most unpredictable drama in American life.
About the Author
Richard Gabriel is a trial consultant of 28 years who has worked on more than a thousand criminal and civil cases across the United States. He is the co-author of Jury Selection: Strategy and Science. A former President of the American Society of Trial Consultants and current President of the ASTC Foundation, he has appeared on CBS, ABC, NBC, CNN, HLN, Fox, MSNBC and NPR in more than 50 interviews on most of the high profile trials in the last 15 years.
Praise For Acquittal: An Insider Reveals the Stories and Strategies Behind Today's Most Infamous Verdi cts…
"Acquittal is the ultimate courtroom insider showing why Richard Gabriel and his team of trial consultants are on my speed dial."—Linda Kenney Baden, Trial Attorney and Author of Remains Silent and Skeleton Justice
 
"A riveting read…[Gabriel is] the go-to trial consultant for high profile cases."—Michael M. Baden, M.D. Former Chief Medical Examiner of New York City, Host of the HBO Autopsy Series and Author of Unnatural Death and Dead Reckoning
 
"Fascinating stories from inside the legal landmark cases of the last twenty years.  More than just a memoir or a journalistic account of these famous trials, Gabriel reveals the struggles, sorrows, twists and turns as prosecutors, defense attorneys, and high-profile defendants wage battle in court and on the public stage."—Shawn Holley, celebrity attorney
 
"Acquittal is the essential book for anyone who wants to truly understand the justice system today."—Don Winslow, author of Savages and Kings of Cool
 
"Truth is stranger than fiction, especially in the courtroom…[Gabriel gives] us surprising and dramatic new revelations about cases that we thought we knew. Acquittal's chapters are filled with real life legal thrillers."—Michelle Ward, PhD, Producer and host of the Investigation Discovery series, Stalked: Someone's Watching.
 
"Richard Gabriel doesn't just take you inside the courtroom of the nation's most watched trials, he takes you inside the minds of the players: their strategies and their moves. With explicit detail, Acquittal instantly captures your interest, presenting reality with the ease of the finest fiction novel. Except these cases were real and Gabriel lived them. While these are the cases we all followed on TV and the newspapers, we now get to step inside the inner sanctum for insights not previously available into our nation's most notorious trials."—Paul Lisnek, J.D., Ph.D, Author of The Hidden Jury and Art of Lawyering, political analyst on WGN-TV, and Host of Politics Tonight on CLTV
or
Not Currently Available for Direct Purchase