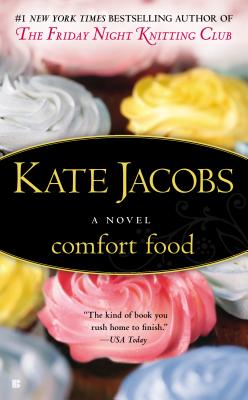 Comfort Food (Mass Market)
G.P. Putnam's Sons, 9780425269961, 384pp.
Publication Date: April 1, 2014
Other Editions of This Title:
Digital Audiobook (5/5/2008)
Paperback (4/7/2009)
Hardcover (5/6/2008)
Compact Disc (5/1/2008)
Audio Cassette (5/1/2008)
(5/6/2008)
Pre-Recorded Audio Player (12/15/2008)
MP3 CD (5/1/2008)
* Individual store prices may vary.
Description
A smart and deliciously funny novel by the bestselling author of The Friday Night Knitting Club—and "readers will be cheering" (Bookreporter.com)...

Shortly before turning the big five-oh, Cooking with Gusto! TV personality Augusta "Gus" Simpson finds herself planning a birthday party she'd rather ignore—her own. To make things worse, the network wants to boost her ratings by teaming Gus with the beautiful, ambitious, and younger Carmen Vega—the former Miss Spain, no less.

But Gus isn't going without a fight—whether it's off set with her two demanding daughters, on camera with the vicious beauty queen herself, or after hours with Oliver, the new culinary producer who's raising Gus's temperature beyond the comfort zone. Now, in pursuit of higher ratings and culinary delights, Gus might be able to rejuvenate more than just her career.

"Fresh, tasty Comfort Food goes down mighty easily…Kate Jacobs's breezy follow-up to her bestselling The Friday Night Knitting Club is a satisfying read that showcases Jacobs's skill in creating endearingly flawed characters…The kind of book you rush home to finish." —USA Today

"[A] warm and irresistible story...Highly recommended."—Library Journal
"Jacobs has once again crafted a luxuriant yarn of a story…Comfort Food is good for the heart and the soul, serving up a rich pastiche of friendship and motherhood, with a savory side of romance, too."—BookPage

"Real comfort food makes us feel safe and warm inside. It brings together family and friends by blending years, memories, and tastes. The novel Comfort Food by Kate Jacobs brings all these elements to the table."—The Paper Palate
About the Author
Kate Jacobs is the author of the #1 New York Times bestseller The Friday Night Knitting Club, Knit Two, Knit the Season, and Comfort Food. A former magazine writer and editor, she lives in Los Angeles with her husband.
Praise For Comfort Food…
Praise for Knit the Season

"The spirit of the season permeates every page as the women knit their way through the family trials and tribulations of Thanksgiving, Hanukkah, Christmas, New Year's, and an unforgettable wedding." —USA Today

"Comforting, heartwarming…Curling up with a Friday Night Knitting Club novel is like visiting with old friends…This holiday entry is sure to please fans and leave them hungry for the next installment." —Booklist

"More than a few craft-lovers will find this yarn under their tree." —BookPage

"[Gives readers a] warm, fuzzy feeling." —Family Circle

"Jacobs's prose is pleasant, and she smoothly juggles all the story lines." —Kirkus Reviews

Praise for Knit Two

"Jacobs stitches together another winning tale…As comforting, enveloping, and warm as a well-crafted afghan." —Publishers Weekly

"Fans [will] eagerly snuggle in to see how the friends piece together their knitting projects while finding solace in one another's company." —People

"As warming and cheering as visiting old friends." —Booklist

"Fans of Debbie Macomber's Blossom Street series will find much to enjoy here." —Library Journal

"Reflects the relationships among women in real life." —The Omaha World-Herald

"For legions of readers awaiting a reunion with their friends from the bestselling novel The Friday Night Knitting Club...Kate Jacobs's warmhearted sequel, Knit Two, is certain to be a cozy companion on a blustery winter night." —BookPage

Praise for The Friday Night Knitting Club
#1 New York Times bestseller!

"If you are looking for an inviting group of gals to spend a few winter evenings with, pull up your afghan (you knitted it yourself, right?) and snuggle in...Reads like Steel Magnolias set in Manhattan." —USA Today

"An absolutely beautiful, deeply moving portrait of female friendship. You'll laugh and cry along with these characters." —Kristin Hannah, #1 New York Times bestselling author

"Its simplicity and soothing repetition leave room for conversation, laughter, revelations and friendship." —Detroit Free-Press

"It's all here—dating, love, motherhood, career, estrangement, death and, especially, friendships that span generations…[A] quick, fun, poignant yarn." —The Seattle Times

"A Steel Magnolias for the twenty-first century." —Kirkus Reviews

"Impossible to put down." —Booklist

"Readers will come to root for nearly everyone." —Concord (NH) Monitor

"[The Friday Night Knitting Club] evolves into an unbreakable sisterhood as the characters learn from each other's differences and bond over their love of knitting." —Vogue Knitting

"It's easy to forget that the characters aren't your friends…But before you realize your emotional vulnerability, Jacobs does something unexpected—she changes things up, and it goes from being a good book to being a really great story." —Marie Claire

"An urban counterpart to How to Make an American Quilt." —New Statesman