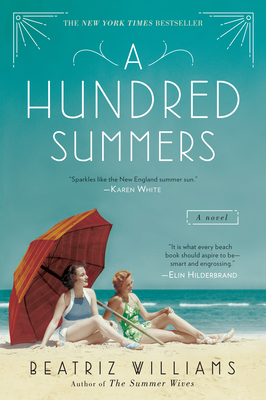 A Hundred Summers
Paperback

* Individual store prices may vary.
Other Editions of This Title:
Digital Audiobook (5/29/2013)
Description
As the 1938 hurricane approaches Rhode Island, another storm brews in this New York Times bestselling beach read from the author of Her Last Flight and The Golden Hour.
 
Lily Dane has returned to Seaview, Rhode Island, where her family has summered for generations. It's an escape not only from New York's social scene but from a heartbreak that still haunts her. Here, among the seaside community that has embraced her since childhood, she finds comfort in the familiar rituals of summer.
 
But this summer is different. Budgie and Nick Greenwald—Lily's former best friend and former fiancé—have arrived, too, and Seaview's elite are abuzz. Under Budgie's glamorous influence, Lily is seduced into a complicated web of renewed friendship and dangerous longing.
 
As a cataclysmic hurricane churns north through the Atlantic, and uneasy secrets slowly reveal themselves, Lily and Nick must confront an emotional storm that will change their worlds forever...

READERS GUIDE INCLUDED
Praise For A Hundred Summers…
Praise for A Hundred Summers

"Blends history, romance, and social commentary into a very potent novel that is much more than a summer guilty pleasure."—Connecticut Post

"Sparkles like the New England summer sun."—New York Times bestselling author Karen White

"It is what every beach book should aspire to be—smart and engrossing."—New York Times bestselling author Elin Hilderbrand

"[A] great summer read."—People

"Will keep the reader so engrossed, multiple applications of sunscreen will be required."—USA Today

"A wonderfully evocative atmosphere of hot and hazy days, shimmering parties, and lazy afternoons on the beach. Add in a little romance, a lost love, and a family mystery, and you've got the perfect way to spend an afternoon in the hot sand."—Examiner.com

"A candidate for this year's big beach read."—Kirkus Reviews

"[A] fast-paced love story."—O, The Oprah Magazine

"Summer of 1938: A scandalous love triangle and a famous hurricane converge in a New England beach community. Add in a betrayal between friends, a marriage for money, and a Yankee pitcher, and it's a perfect storm."—Good Housekeeping
Berkley, 9780425270035, 432pp.
Publication Date: April 1, 2014
About the Author
Beatriz Williams lives with her husband and children in Connecticut. She is the New York Times bestselling author of Along the Infinite Sea, Tiny Little Thing, The Secret Life of Violet Grant, A Hundred Summers, and Overseas. She also writes under the pseudonym Juliana Gray.
There are recurring themes of illusion versus reality. For example, Budgie, the apparent prototype of beauty and femininity, actually has a rotten, ugly core. What other examples in the book reinforce this interplay of façade versus truth?
How does the Greenwalds' white, modern, renovated house serve as a metaphor for what is happening, and ultimately happens, to Nick and Budgie's marriage?
The structure of the book—alternating passages of past and present—creates tension from chapter to chapter. How else might the structure reinforce the themes of the book, and in what ways does the past interfere with the present?
Several of the characters are drawn as opposites of each other, such as Lily and Budgie. But what about Aunt Julie? How does she complicate these dualities and how does she move the story forward?
Lily's narration is filtered through different lenses: the lens of youth, the lens of alcohol, the lens of retrospect, and even that of love. How do these affect the way in which Lily tells the story?
Occasionally, the author breaks the "third wall," and Lily directly addresses the reader. For example: "I'll tell you, the things we got up to in Seaview." Why do you think the author makes this choice and what effect does it create?
During Lily's confrontation with her mother, Aunt Julie says, "You're not in a goddamned Greek tragedy here." But how does the storyline echo a Greek tragedy, and where do we see the classic elements of betrayal, love, loss, and pride? Who could qualify as a "tragic hero?"
In the opening of Chapter 22, Lily narrates Seaview's beauty as seen through the eyes of a stranger, and then notes that she is "used to" Seaview's beauty. What else are the characters so "used to" that they fail to see it? In other words, what "discoveries" are hiding in plain sight?
Lily occasionally "zooms out" to see herself and at one point observes a "thin-skinned vessel of Lily." What might Lily not see about herself, despite her attempts at objectivity?
The storm hits at the climax of the story, when the hidden truths come pouring out. When the skies clear, the two most malicious characters are dead. How does that comment on the storm's function in the story?
Lily's mother is absent much of the story—Lily references her, or we see her from afar. Why do you think the author chose to keep her largely offstage until the climactic confrontation?
It's been said that "children inherit the sins of their parents." Lily suffers this fate in a clear way, while Kiki manages to avoid it. What are the more subtle ways in the story that characters fall victim to, or perpetuate, a cycle? What about in your own life?
The story is told against the backdrop of several important historical events: prohibition, World War II, and of course, the great storm of 1938. How do these historical events impact the fictitious world of the characters? Could this story have been told in another time?