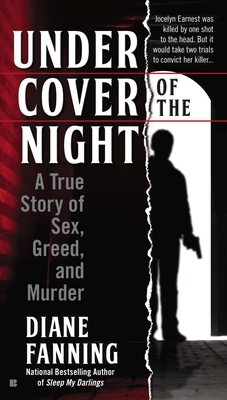 Under Cover of the Night (Paperback)
A True Story of Sex, Greed and Murder
Berkley, 9780425270233, 384pp.
Publication Date: October 7, 2014
Other Editions of This Title:
Digital Audiobook (10/6/2014)
MP3 CD (10/7/2014)
Compact Disc (10/7/2014)
Compact Disc (10/7/2014)
* Individual store prices may vary.
Description
It was planned to look like a suicide.
But even in the best-laid plans, evidence is left behind…

Jocelyn Branham Earnest was found dead on the floor of her living room in Forest, Virginia. By her side was a gun and a suicide note—typed, lacking a signature, and with one fingerprint on it. A fingerprint apparently belonging to Jocelyn's estranged husband…

Wesley Earnest was a respected high school administrator, poised to restart his life in a new community. Parents entrusted their children to his care and believed he was above reproach. But the investigation into the life the couple once shared would reveal adultery, troubled finances, and shattered dreams—enough for one man with murder on his mind to travel hundreds of miles…

Under Cover of the Night
 
INCLUDES PHOTOS
About the Author
Diane Fanning is the Edgar® Award–nominated, national bestselling author of twelve true crime books—Sleep My Darlings, Her Deadly Web, Mommy's Little Girl, A Poisoned Passion, The Pastor's Wife, Out There, Under the Knife, Baby Be Mine, Gone Forever, Written in Blood, Into the Water, and Through the Window—as well as the Lucinda Pierce Mysteries and a World War II mystery, Scandal in the Secret City.

She has appeared on numerous network and cable news shows and radio stations across the United States and Canada, including TODAY, 48 Hours, 20/20, Forensic Files, Snapped, bio., Investigation Discovery, E!, and the BBC. Raised in Baltimore, she now lives in the shadow of the Blue Ridge Mountains in Bedford, Virginia.
Praise For Under Cover of the Night: A True Story of Sex, Greed and Murder…
Praise for Diane Fanning:

"Very few writers have the insight and gift to take a true story and make it one hell of a page-turner. In my opinion, Diane Fanning does just that in A Poisoned Passion."—Susan Murphy Milano, domestic violence victims' advocate

"Author Diane Fanning tirelessly recounts the young woman's lying ways, theorizes how Anthony might have disposed of her daughter, and concludes that Anthony is 'an individual whose self-absorption and insensitivity to others is a destructive force.'"—Orlando Sentinel

"I'm sitting on a couch in our newsroom, pouring through the advance copy of your book. Unbelievable stuff!"—Mike DeForest, WKMG-TV, on Mommy's Little Girl

"I couldn't put it down until I had finished it. I'm amazed at how much research you had to have done, and for the parts I actually knew about, the accuracy was more than I could have expected. I have to tell my friends that if they read this book, they will be able to experience everything that I did, just as if they had experienced it themselves. I'm a reader and have read many books and still do, but I'm still surprised at how well you wove everything into a story that's enjoyable to read and accurate to detail."—Herb Betz on Through the Window

"I was astonished by how good this book was—insightful, well written, and fascinating."—Hugh Aynesworth, four-time Pulitzer Prize nominee, on Out There

"With the publication of Diane Fanning's book, Written in Blood, the official record is now complete. Fanning provides a full account of the epic Peterson murder mystery. Her writing is superb. Most importantly, Diane Fanning has written a true crime book focused more on the truth than on the crime, and in that sense, her work honors the spirit of the victim, Kathleen Hunt Atwater."—Vance Holmes