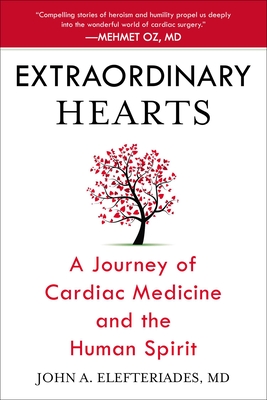 Extraordinary Hearts (Paperback)
A Journey of Cardiac Medicine and the Human Spirit
Berkley, 9780425271520, 288pp.
Publication Date: April 1, 2014
* Individual store prices may vary.
Description
Cardiac surgeon John A. Elefteriades, one of Men's Health magazine's ten best doctors in America, shares moving patient stories and lessons about the human heart.
 
The human heart is a paradox, incredibly strong yet surprisingly fragile. And while stories that reveal its symbolic characteristics abound, there are far fewer that laud its physical capabilities, which are perhaps even more profound.
 
Dr. Elefteriades, one of the most respected cardiac surgeons in America, has treated more than 10,000 patients in his distinguished career. Now, for the first time, he shares fascinating stories of his most memorable patients and cases—patients who have challenged him technically and moved him emotionally, patients who have enriched his life and expanded his horizons while he cared for their hearts. By detailing heart conditions and cardiac reparative procedures with specific yet accessible medical narratives, Dr. Elefteriades encapsulates the beauty, complexity, and majesty of the human heart.
 
But there is far more to this organ—and these stories—than a collection of veins, arteries, and valves. These are stories of courage, miracles, and the bravery of patients (some famous and others not) and their families when facing nearly insurmountable challenges, offering a thought-provoking, informative, and at times heart-wrenching study of the resilience of both the human body and spirit.
About the Author
Dr. John A. Elefteriades is the William W.L. Glenn Professor of Cardiothoracic Surgery and Director of the Aortic Institute at Yale University and Yale-New Haven Hospital. He is among the most clinically active academic surgeons in the country and serves on multiple scientific advisory and editorial boards. He is the author of House Officer Guide to ICU Care (1st, 2nd, and 3rd Editions), Advanced Treatment Options for the Failing Left Ventricle, Disease of the Aorta, Your Heart: An Owner's Guide, The Woman's Heart: An Owner's Guide, Acute Aortic Disease, and Controversies in Diseases of the Aorta. He is also the author of the medical thriller Transplant, which was a finalist in the Next Generation Indie Book Awards as a best first novel.