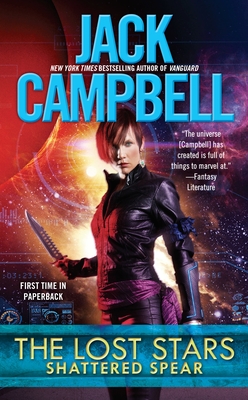 The Lost Stars (Mass Market Paperbound)
Shattered Spear
Ace Books, 9780425272282, 368pp.
Publication Date: March 28, 2017
Description
The New York Times bestselling author of The Lost Fleet series returns to the epic space saga of a rebellion against a totalitarian regime, and the determination of two people to create a better future in the farthest reaches of the colonized galaxy...
The Syndicate Worlds continues to splinter as more star systems pledge allegiance to President Gwen Iceni's and General Artur Drakon's new government at Midway. But the rebels fleeing the toxic legacy of Syndicate rule have difficulty trusting one another and believing their new leaders' promises of freedom from tyranny.
Before Iceni and Drakon can put their house in order, they must deal with another threat. An enigma warship has appeared and vanished near a Syndic colony. If the aliens are capable of jumping into other human-occupied star systems, then billions of people could be vulnerable to a hostile invasion fleet anywhere it chooses to strike.
But an even greater liability lies with Iceni and Drakon as a once-trusted adviser turned saboteur plans revenge...
About the Author
"Jack Campbell" is the pen name of John G. Hemry, a retired naval officer who graduated from the U.S. Naval Academy in Annapolis before serving with the surface fleet and in a variety of other assignments. He is the author of The Lost Fleet series as well as the Stark's War series and the Paul Sinclair series. His short fiction appears frequently in Analog magazine. He lives with his indomitable wife and three children in Maryland.
Advertisement