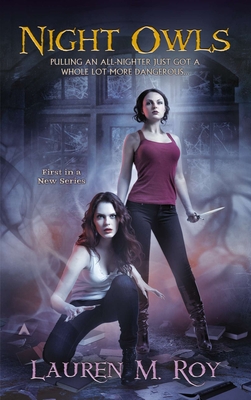 Night Owls (A Night Owls Novel #1)
Mass Market

* Individual store prices may vary.
Description
Night Owls bookstore is the one spot on campus open late enough to help out even the most practiced slacker. The employees' penchant for fighting the evil creatures of the night is just a perk…

Valerie McTeague's business model is simple: provide the students of Edgewood College with a late-night study haven and stay as far away as possible from the underworld conflicts of her vampire brethren. She's experienced that life, and the price she paid was far too high for her to ever want to return.

Elly Garrett hasn't known any life except that of fighting the supernatural beings known as Creeps or Jackals. But she always had her mentor and foster father by her side—until he gave his life protecting a book that the Creeps desperately want to get their hands on.

When the book gets stashed at Night Owls for safekeeping, those Val holds nearest and dearest are put in mortal peril. Now Val and Elly will have to team up, along with a mismatched crew of humans, vampires, and lesbian succubi, to stop the Jackals from getting their claws on the book and unleashing unnamed horrors…
Praise For Night Owls (A Night Owls Novel #1)…
"Night Owls is a fast, fun read that kept me turning the pages. Lauren M. Roy delivers a plot that zips, dialogue that zings, and a cast of characters you'll cheer for to the very end. Thumbs up!"—Devon Monk, national bestselling author of Cold Copper

"Filled with great characters and action. Can't wait to read the next one!"—Keri Arthur, New York Times bestselling author of Darkness Splintered
Ace, 9780425272480, 304pp.
Publication Date: February 25, 2014
About the Author
Lauren M. Roy started out as an independent bookseller, moved on to Hachette Book Group (where she has been a telephone sales representative for ten years), and is now completing her bookselling hat trick as an author.

She has done some freelance writing for tabletop role-playing games, including Dragon Age, Trail of Cthulhu, and A Song of Ice and Fire Roleplaying.

Lauren lives in southeastern Massachusetts with her husband, their cats, and the ghosts of houseplants she forgets to water. She is a graduate of Viable Paradise, the science fiction and fantasy writers' workshop. Night Owls is her first novel.