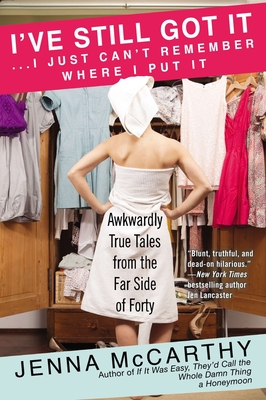 I've Still Got It...I Just Can't Remember Where I Put It
Awkwardly True Tales from the Far Side of Forty
Paperback

* Individual store prices may vary.
Description
Welcome to Middle Age! Please check your functioning internal thermostat and razor-sharp memory at the door and pour yourself a nice, stiff drink...

Jenna McCarthy might be forty-something, but she doesn't feel forty-something. She certainly doesn't look forty-something. (Actually she does, but she's in denial so maybe don't mention it?) And between complaining about how tired she is, trying to remember what she came in here for and wondering whether she drinks too much, she does not have time for a crisis.

She has, however, had time to crack the mysterious midlife code. She's figured out how to tame her muffin top, keep the spark in her marriage and probably not die a fiery hoarder's death. She's learned the trick to looking ten years younger and the secret to feeling ten times happier (and it only cost $14.99 plus shipping and handling). And she's discovered the one thing she will need to do for the rest of ever if she's going to continue to refuse to "dress her age."

Tackling everything from cosmetic surgery and financial panic to skinny jeans and the meaning of life, I've Still Got It... is a middle age manifesto filled with hilarious misadventures, humiliating confessions and occasional (hot) flashes of genius.
Praise For I've Still Got It...I Just Can't Remember Where I Put It: Awkwardly True Tales from the Far Side of Forty…
Raves for I've Still Got It

"Jenna McCarthy's I've Still Got It is everything you could want in a book or a best friend—blunt, truthful, and dead-on hilarious. Her unflinching look at the vagaries of middle age is witty and astute and will give you comfort in knowing that you're not the only person whose arms are suddenly too short to read the menu. Granted, you'll still have your laugh lines after reading this, but at least you'll have earned them. More than ever, Jenna McCarty proves that 'she's still got it' in this hysterical collection!" —Jen Lancaster, New York Times bestselling author of Bitter Is the New Black and The Tao of Martha

"Hilarious and spot-on! Jenna McCarthy's I've Still Got It made me howl. Her comic timing and quirky wisdom have never been better!" —Celia Rivenbark, New York Times bestselling author of Rude Bitches Make Me Tired

"Jenna McCarthy is Lena Dunham if she had kids and shopped at Costco or Howard Stern if he had prettier hair and a thing for happy hour. In I've Still Got It, she spins wildly entertaining essays from the simplest themes, from domestic clutter to the realities of aging and her (increasingly) sagging body parts. With whip-smart humor, older-sister warmth and wickedly sharp insight, Jenna proves she's been there, done that... and bought all the sparkly things at Target because they were on sale, damn it! I loved every word of this delightful, relatable book and I think you will too." —Anna Goldfarb, author of Clearly, I Didn't Think This Through: The Story of One Tall Girl's Impulsive, Ill-Conceived, and Borderline Irresponsible Life Decisions

"Take Jerry Seinfeld, put him in Spanx and pump him full of perspiration-producing hormones... then set him in front of a computer and tell him to write, and you've got Jenna McCarthy's hilarious I've Still Got It. McCarthy has an uncanny knack for taking the most mundane of events—in this case, the agonies of middle age—and putting her unique and always side-splitting spin on them. Grab your reading glasses and a cocktail and get ready to laugh." —Allison Winn Scotch, bestselling author of Theory of Opposites and Time of My Life

"One part acerbic humor, another self-effacing charm, Jenna McCarthy's I've Still Got It is the middle-aged woman's bible. If you can't recall where you left your car keys, refuse to dress your age, and drink more in one week than you did throughout your entire college career, McCarthy will have you snorting out loud while you guzzle your sixth glass of Chardonnay. Kudos to McCarthy for seizing the Zeitgeist of her generation by the balls and detailing every nitty gritty truth." —Emily Liebert, bestselling author of You Knew Me When

"Aging isn't funny; it's tragic and unavoidable and depressing as hell. Aging through Jenna McCarthy's eyes, however, is a laugh-out-loud ride. In fact, after reading I've Still Got It, I can't wait to be as old as Jenna!" — Jill Smokler, New York Times bestselling author of Confessions of a Scary Mommy and Motherhood Comes Naturally (And Other Vicious Lies)
Berkley, 9780425272534, 320pp.
Publication Date: July 1, 2014
About the Author
Jenna McCarthy is the internationally published writer of If It Was Easy, They'd Call the Whole Damn Thing a Honeymoon and The Parent Trip, former radio personality, and recovering leopard-print addict. She lives in Santa Barbara, California, with her husband, two daughters, and lots of dog and cat hair.
or
Not Currently Available for Direct Purchase