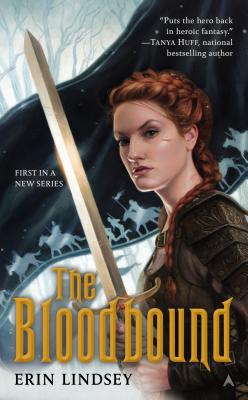 The Bloodbound (A Bloodbound Novel #1) (Paperback)
Ace, 9780425272688, 368pp.
Publication Date: September 30, 2014
* Individual store prices may vary.
Description
Of all those in the King of Alden's retinue, the bloodbinders are the most prized. The magic they wield can forge invaluable weapons, ones that make soldiers like Lady Alix Black unerringly lethal. However, the bloodbinders' powers can do so much more—and so much worse…

A cunning and impetuous scout, Alix only wishes to serve quietly on the edges of the action. But when the king is betrayed by his own brother and left to die at the hands of attacking Oridian forces, she winds up single-handedly saving her sovereign.

Suddenly, she is head of the king's personal guard, an honor made all the more dubious by the king's exile from his own court. Surrounded by enemies, Alix must help him reclaim his crown, all the while attempting to repel the relentless tide of invaders led by the Priest, most feared of Oridia's lords.

But while Alix's king commands her duty, both he and a fellow scout lay claim to her heart. And when the time comes, she may need to choose between the two men who need her most…
About the Author
Erin Lindsey is on a quest to write the perfect summer vacation novel, with just the right blend of action, heartbreak, and triumph. The Bloodbound series was her first effort. She lives in Brooklyn, NY with her husband a pair of half-domesticated cats.
Praise For The Bloodbound (A Bloodbound Novel #1)…
Praise for The Bloodbound

"Lindsey puts the hero back into heroic fantasy with action and intrigue and flawed but likable characters who, in complex political/personal situations, make hard decisions and stand by them." —Tanya Huff

"Strong romantic elements and a dash of humor enliven Erin Lindsey's fantasy debut set in a kingdom besieged by dark forces and torn apart by betrayal."—Jacqueline Carey

"Sturdy characterizations and intriguing magic anchor this solid series launch...By the time the relevance of the novel's title to the bonds of family, as well as to battle and enchantment, becomes clear, Lindsey's mostly balanced mix of romance and heroic fantasy will have captured readers' hearts." —Publishers Weekly

"Palace intrigue, military strategy, and plenty of sword-fighting keep the story line interesting and exciting." —Bitten by Books