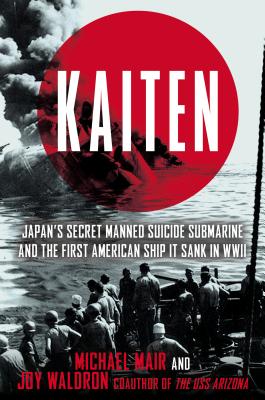 Kaiten: Japan's Secret Manned Suicide Submarine and the First American Ship It Sank in WWII (Hardcover)
Japan's Secret Manned Suicide Submarine and the First American Ship It Sank in WWII
Berkley Publishing Group, 9780425272695, 363pp.
Publication Date: May 6, 2014
* Individual store prices may vary.
or
Not Currently Available for Direct Purchase
Description
In November 1944, the U.S. Navy fleet lay at anchor in Ulithi Harbor, deep in the Pacific Ocean, when the oiler USS" Mississinewa" erupted in a ball of flames. Japan's secret weapon, the "Kaiten" a manned suicide submarine had succeeded in its first mission.
The "Kaiten" was so secret that even Japanese naval commanders didn t know of its existence. And the Americans kept it secret as well. Embarrassed by the shocking surprise attack, the U.S. Navy refused to salvage or inspect the sunken Mighty Miss. Only decades later would the survivors understand what really happened at Ulithi, when a diving team located the wreck in 2001.
In "Kaiten," Michael Mair and Joy Waldron tell the full story from both sides, from the strategic importance of the USS" Mississinewa" to newly revealed secrets of the "Kaiten" development and training schools. U.S. Navy survivors recount their gripping experiences in the wake of the attack, as well as the harrowing recovery efforts that came later. Japanese pilots reveal their terrifying experiences training to die for their country and Emperor, never knowing when their moment of doom would come.
INCLUDES PHOTOGRAPHS.
About the Author
A businessman and historian, Michael Mair is the son of a USS" Mississinewa "survivor." "He began research for this book in 1995, including extensive interviews with other survivors and naval personnel stationed in the Pacific at the crucial time in 1944. He has appeared on various History Channel programs, served as a consultant for the Canadian television program "Sea Hunters," and contributed to "Naval History" magazine. He lives in Platteville, Wisconsin.

Joy Waldron is the coauthor of "The USS Arizona: The Ship, the Men, the Pearl Harbor Attack, and the Symbol That Aroused America." A professional journalist and editor, she has published numerous articles on World War II ships, survivors, and underwater archaeology. Other journalistic credits include investigative reporting on the search for the "Titanic" and breaking the news worldwide of Robert Ballard s expedition, including roundup stories for "Smithsonian "magazine and others. She lives in Santa Fe, New Mexico, and Bordeaux, France.

"
Praise For Kaiten: Japan's Secret Manned Suicide Submarine and the First American Ship It Sank in WWII…
"A powerful tale about how an intersection of youth, patriotism and sacrifice ended in a fiery, suicidal assault on an American warship.  More than recounting a battle, this is a very human story that relives one of the most painful episodes of World War II."—James P. Delgado, Author of Silent Killers: Submarines and Underwater Warfare and Khublai Khan's Lost Fleet: In Search of a Legendary Armada
 
"Mair and Waldron masterfully interweave World War II documents, interviews, and oral histories of two opposing nations in mortal conflict to create a rare and intimate view of the Pacific War that provokes the reader to rethink the boundaries of individual courage and national patriotism."—Larry E. Murphy, Chief (retired), Submerged Resources Center, National Park Service
 
"A crisp, persuasive narrative about a little-known, but startling World War II attack…Mair and Waldron portray the story from both perspectives, constantly building to a dramatic, fiery crescendo. Their profiles of American and Japanese sailors add poignancy to a compelling story of battle disaster, death and survival."—David Sears, Author of Pacific Air and At War with the Wind
 
"This doomed mission almost became lost in history after the atomic explosions at Hiroshima and Nagasaki. But the authors of Kaiten have pulled together the story, and populated it with flesh-and-blood warriors on both sides of the conflict…This book can take its place alongside Shadow Divers and Unbroken as a graphic, living story from the worst war the world has ever known."—Richard McCord, Journalist, Editor and Publisher of the Santa Fe Reporter and Author of The Chain Gang: One Newspaper versus the Gannett Empire
 
"If you like reading history with the details to bring it to back to life, you'll enjoy Kaiten."—Ralph Wilbanks, underwater archaeologist and NUMA expedition leader
Advertisement