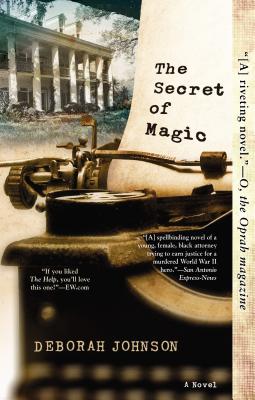 The Secret of Magic (Paperback)
Berkley, 9780425272787, 416pp.
Publication Date: January 6, 2015
Other Editions of This Title:
Digital Audiobook (1/20/2014)
Hardcover (1/21/2014)
Hardcover, Large Print (5/28/2014)
* Individual store prices may vary.
Description
Winner of the Harper Lee Prize for Legal Fiction


"If you liked The Help, you'll love this one!"--EW.com

In a novel that "brings authentic history to light,"* a young female attorney from New York City attempts the impossible in 1946: attaining justice for a black man in the Deep South. 

Regina Robichard works for Thurgood Marshall, who receives an unusual letter asking the NAACP to investigate the murder of a returning black war hero. It is signed by M. P. Calhoun, the most reclusive author in the country.

As a child, Regina was captivated by Calhoun's The Secret of Magic, a novel in which white and black children played together in a magical forest. The book was a sensation, featured on the cover of Time magazine, and banned more than any other book in the South. And then M.P. Calhoun disappeared.

With Thurgood's permission, Regina heads down to Mississippi to find Calhoun and investigate the case. But as she navigates the muddy waters of racism, relationships, and her own tragic past, she finds that nothing in the South is as it seems.

Named one of four titles on the shortlist for this year's Ernest J. Gaines Award for Literary Excellence, awarded by the Baton Rouge Area Foundation
 
READERS GUIDE INCLUDED

*Augusta Trobaugh
About the Author
Deborah Johnson is the author of The Secret of Magic and The Air Between Us, which received the Mississippi Library Association Award for Fiction.
Praise For The Secret of Magic…
Praise for The Secret of Magic

"There are a million metaphors I could use to describe Deborah Johnson's writing in The Secret of Magic—but all of them are inadequate in conveying the ebb and flow of her phrasing or the care in crafting her characters.... If you liked The Help, you'll love this one! ... [T]he cadence of Johnson's writing is an absolute joy.... I can't think of any other recent book in which I have so enjoyed an author's actual stringing-together-of-words." —EW.com

"I found this story about race, The South, our country, part history, part mystery—never disappointing. Like The South she tragically portrays, The Secret of Magic is a layered tale of the best and worst of our history, beautifully wrought by a master storyteller."—Robert Hicks, New York Times bestselling author of Widow of the South 

"The secret (and magic) in The Secret of Magic is in Deborah Johnson's powerful writing, creating character and story that will linger long after the reading."—Terry Kay, author of To Dance with the White Dog 

"I am mightily impressed with her work. Johnson's story brings authentic history to light, yet suggests a seed of reconciliation. Fantastic!"—Augusta Trobaugh, author of Sophie and the Rising Sun 

"You can almost hear the rustle of Spanish moss and the clink of ice cubes in glasses of sweet tea in Johnson's novel, which captures the duality of the Jim Crow South…As Regina navigates Revere with both horror and wonder, Johnson interweaves her story with a novel by a local matriarch, steeping the reader in town mythology…[A] rich portrayal of Revere and its inhabitants."—Entertainment Weekly (A-)
 
Why did Thurgood Marshall first hire Regina as a lawyer at the Legal Defense Fund? What does this say about his attitude toward equal rights in general and toward women in particular?
What were Joe Howard Wilson's feelings toward the Calhoun family? What were his feelings toward his father, Willie Willie?
At one point, Mary Pickett mentions rumors of a romance between Willie Willie and Peach. Why did they remain friends but never marry after Luther was "disappeared"?
Regina pays a lot of attention to her clothes. Why does the author include this? What did you make of Mary Pickett's changing her sweater once she sees Regina wearing the same one?
Do you think Mary Pickett truly didn't notice that the teacup she gave Regina was chipped? Was it an honest mistake, or was she making a point?
Regina comes to feel that in many ways the South in 1946 is more integrated than the North. In what ways does she feel this? Do you agree with her?
Is Tom Raspberry an Uncle Tom, or is he a man who has realistically made his way forward in a world where the cards are stacked against him?
Why did Wynne Blodgett kill Joe Howard Wilson, and why did he think he could get away with it? Could this kind of thing still happen today?
Who "owned" the stories in M. P. Calhoun's book The Secret of Magic? Was it Mary Pickett herself, or Willie Willie? Did Mary Pickett feel morally correct in publishing The Secret of Magic, or was she always at least a little ambivalent about what she had done? Why was she finally able to restart her writing career?
How is Mary Pickett Calhoun the stereotypical ideal of a southern white woman? How is she different from that? Can you draw comparisons to other figures in literature, such as Scout in To Kill a Mockingbird and Scarlett O'Hara in Gone with the Wind?
Who was the most courageous character in the book for you, and why? How do you measure courage?
or
Not Currently Available for Direct Purchase