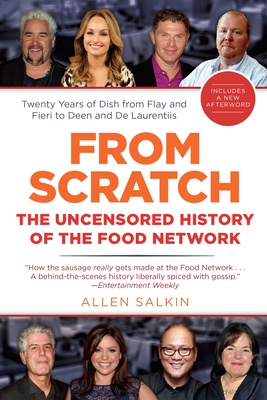 From Scratch (Paperback)
The Uncensored History of the Food Network
Berkley, 9780425272862, 528pp.
Publication Date: October 7, 2014
Other Editions of This Title:
Digital Audiobook (9/30/2013)
Hardcover (10/1/2013)
* Individual store prices may vary.
Description
Twenty Years of Dish from Flay and Fieri to Deen and DeLaurentiis...

Includes a New Afterword!

"I don't want this shown. I want the tapes of this whole series destroyed."—Martha Stewart

"In those days, the main requirement to be on the Food Network was being able to get there by subway."—Bobby Flay

"She seems to suggest that you can make good food easily, in minutes, using Cheez Whiz and chopped-up Pringles and packaged chili mix."—Anthony Bourdain

This is the definitive history of The Food Network from its earliest days as a long-shot business gamble to its current status as a cable obsession for millions, home along the way to such icons as Emeril Lagasse, Rachael Ray, Mario Batali, Alton Brown, and countless other celebrity chefs. Using extensive inside access and interviews with hundreds of executives, stars, and employees, From Scratch is a tantalizing, delicious look at the intersection of business, pop culture, and food.

INCLUDES PHOTOS
About the Author
Allen Salkin has been a journalist for such publications as New York, the Village Voice, and Details. As a staff reporter for the New York Times, he wrote nearly two hundred features about food, culture, and media—for one of them, the legendary chefs Ferran Adrià and José Andrés cooked him lunch in his apartment. As an investigative reporter for the New York Post, Salkin wrote hundreds of articles—on corrupt judges, emergency room ethics, and troubled cults, among others. He has also produced video interviews with culinary stars for many food websites. Salkin's journalism has taken him to more than forty countries, from the Beijing Olympics to the snorkel wakes of "Doom Tourists" in the Galápagos. He lives in New York City.
Praise For From Scratch: The Uncensored History of the Food Network…
"A detailed look at the network from start-up phase to the present…juicy stories about the network's most polarizing figures—Guy Fieri, Bobby Flay, Anthony Bourdain, and, of course, Paula Deen y'all."—The Atlantic Wire

"Dishy…Hard to resist."—The New York Times Book Review

"One part steamy exposé, one part deep-fried human interest, and one part television history."—Kirkus Reviews

"Details the egos and feuds of the people that made a fledgling upstart a cable TV empire."—The Daily Beast

"For a full account of the network and its evolution, it's worth reading Allen Salkin's excellent, informative new tome."—The Wall Street Journal

"Salkin brings a pop journalist's eye to the development of the network that would provide the ultimate exploitation of food and cooking…There's plenty of good gossip to be had—the rise and fall of Emeril Lagasse is practically Shakespearean…Salkin seems to have interviewed almost everyone connected with the channel, and he's good on behind-the-scenes business machinations."—Los Angeles Times