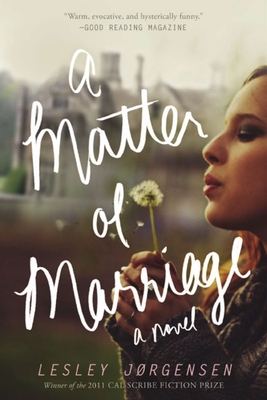 A Matter of Marriage
Paperback

* Individual store prices may vary.
Description
Debut novelist Lesley Jorgensen delivers a rich, funny delight of a novel in which the marriage plot is on dazzling display. But as scandals, secrets, culture clashes, and misunderstandings abound how will anyone find time for love?
Mrs. Begum is the doting, anxious mother of three grown children Tariq, an art curator with a secret he's not quite ready to share with his parents; her baby, Shunduri, the pampered princess of the family; and her daughter Rohimum, who has returned home to rural England in shame. Mrs. Begum is determined to marry them off, and marry them off well. But where to start?
Mrs. Begum's husband, the fastidious, stuffy Dr. Choudhury, has moved the family to a cottage on the grounds of Bourne Abbey, a grand but crumbling estate whose restoration he is overseeing. There, the Choudhury family lives alongside the estate's youngish heirs Henry and Richard.
The Bournes and the Choudhurys are equally snared in the spider-web of centuries-old tradition, but the Abbey itself houses a mystery that will reveal long-hidden entanglements ones that the two families never anticipated
Praise For A Matter of Marriage…
Praise for A Matter of Marriage
(Previously published as Cat & Fiddle)
 
"A big-hearted, clamorous comedy of East-meets-West…This jet-fueled melodrama crashes from one unprecedented crisis to the next, taking in desperate family secrets, betrayals, misunderstandings, walled-up mysteries, and delicious coincidence."—The Sydney Herald
 
"Occasionally you love a book so much that it's difficult to close the door on its world. [A Matter of Marriage]—with its warm, evocative, and hysterically funny story—is such a book. A whiff of Pride and Prejudice is brilliantly mixed in with colorful layers of Indian culture."—Good Reading Magazine
 
"This is a big, fat, satisfying read, which will appeal to fans of books featuring intricate plots, family webs, rollicking love stories, multiculturalism (particularly with a sub-continental theme), and clashes between tradition and modernity, religion and culture. I adored this sprawling, funny novel. This is highly recommended late-summer reading."—Bookseller & Publisher (Starred Review)
 
"Lesley Jørgensen explores [her characters'] lives with exquisite sensitivity and delicious irony…[Her] benevolent storytelling...has a whimsical surface on which the most commonplace happenings are greeted with something like wonder…A remarkable accomplishment."—The Saturday Age
 
"Jørgensen steps so adroitly in and out of the heads of these wonderful characters that it's as if she's at your shoulder, the perfect traveling companion on the novel's journey: chatty, warm, compassionate, and funny. An exuberant debut, bubbling with energy and insight."—Cate Kennedy, Author of Like a House on Fire
Berkley Books, 9780425272893, 464pp.
Publication Date: December 2, 2014
About the Author
Lesley Jorgensen trained as a registered nurse while completing simultaneous degrees in arts and the law. She has worked as a medical negligence lawyer in Australia and England. While in England, she married into a Muslim Anglo Bangladeshi family. She now lives in Adelaide, Australia, with her two children. A Matter of Marriage (formerly Cat & Fiddle) is her first novel and the winner of the 2011 CAL Scribe Fiction Prize for an unpublished manuscript by an Australian writer aged thirty-five and over."
Shilpi steals Shundri's thunder at the café when she shows up in a "flowing Saudi-style abaya and niqab, as black as night." This is just the first instance where a character uses traditionalism for dramatic effect. Where else in the novel does this happen?
Our introduction to Simon casts him as a villain because he suppresses Rohimun's creativity and expects domesticity. But throughout the book we learn that Dr. Choudhury also expects Mrs. Begum to be the housekeeper and hates the progressive influence of Mrs. Darby. Discuss this irony.
When reflecting on his daughters, Dr. Choudhury thinks, "there was bound to be trouble when both temper and talent were given to a woman." Which woman is he referring to?
4. Coolie-girl that she is, Shundri's beauty is described as flashy in the opening chapters of the book. But when Thea and Henry see her, Shundri is described as "a negative print of Grace Kelly," and her demure beauty can be appreciated. Discuss each character's take on beauty throughout the book.
Discuss the opium storyline in Chapter 12. Were you surprised that this didn't come up again?
Do you think that the trip to Mecca will happen?
Syeda Begum never had a traditional wedding because she was pregnant. Babru Choudhury had an affair with his doctoral supervisor. In this case do these two "wrongs" make a right?
Pregnancy (her own and the pregnancy of others) indirectly plays a role in getting Mrs. Begum what she wants. How does pregnancy move the storyline along?
Royalty is mentioned throughout the novel. Rohimun is compared to Princess Di. Discuss Mrs. Begum's fixation with Dodi and Diana, and the relationship of royalty to each character.
Dr. Choudhury can be elitist; he has an odd obsession with the sari cabinet and his own wife calls him a cockroach. At the end of the story, do you feel animosity toward him, or are you sympathetic? Does the fact that Mrs. Begum uses his full name on the last page change your feelings?
Dr. Choudhury thinks of Tariq as perfect combo of East and West. Is that true? Is he the only one?
Richard and Rohimun's relationship quickly moves from an initial meeting to Richard buying a pricey rug that reminds him of her—even though at that point he's still not sure if she's in the Abbey as the lover of Dr. Choudhury or Tariq. At what point were you convinced that they had a connection? How did you feel about the pace of their relationship?
Mrs. Begum is an extraordinary female figure whose power is in many ways linked to her prowess in the kitchen. Is she "the only one trying to fix this family," as she proclaims? How do her skills add to her power to help? How do others help, if they do?
Dr. Choudhury says that Saudis are "number-one villains": "You know, these Saudis. Ignorant people, thinking that they can buy anyone and anything with their dirty money." Who else could he be talking about?
Mrs. Begum approves of Kareem because of who he is on paper. Do you believe that Kareem has had a very Jane Austen-esque moral awakening?
Rohimun reflects on Western relationships: "Was this embrace gora politeness or pity, or something else, which perhaps mattered as much to him as it did to her? She felt adrift in his Western world of dating and girlfriends: she had seen, lived, the fluid dishonesty of those relationships, so much a matter of mood and whim as to whether the bond would be acknowledged or betrayed. A recipe for misery." Is the Desi way easier? Better?
One of the funniest uses of Jane Austen's humor is evoked by Jørgensen with a third-person perspective on the marriage of Mrs. Begum and Dr. Choudhury. What other scenes made you laugh?
or
Not Currently Available for Direct Purchase