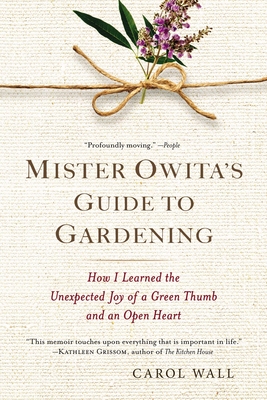 Mister Owita's Guide to Gardening (Paperback)
How I Learned the Unexpected Joy of a Green Thumb and an Open Heart
Berkley, 9780425273838, 320pp.
Publication Date: February 3, 2015
Other Editions of This Title:
Digital Audiobook (3/3/2014)
Hardcover (3/4/2014)
Hardcover, Large Print (7/9/2014)
* Individual store prices may vary.
Description
A true story of a unique friendship between two people who had nothing—and ultimately everything—in common.

Carol Wall, living in a lily-white neighborhood in Middle America, is at a crossroads in her life. Her children are grown; she has successfully overcome illness; her beloved parents are getting older. One day she notices a dark-skinned African man tending her neighbor's yard. His name is Giles Owita. He bags groceries at the supermarket. He comes from Kenya. And he's very good at gardening.
Before long Giles is transforming not only Carol's yard, but her life. Though they are seemingly quite different, a caring bond grows between them. But Carol and Giles both hold long-buried secrets that, when revealed, will cement their friendship forever.
Includes a Readers Guide
About the Author
Carol Wall is a writer whose essays and articles have appeared over many years in Southern Living magazine and The Atlanta Journal-Constitution. She lives on a tree-lined street in the heart of Middle America.
Praise For Mister Owita's Guide to Gardening: How I Learned the Unexpected Joy of a Green Thumb and an Open Heart…
"In this profoundly moving memoir, Owita teaches Wall how to find grace amid heartbreak and to accept that beauty exists because it is fleeting—as in her garden, as in life." —
People
, 4 stars

"In this lovely memoir, a surprising friendship blooms between a horticulturist with a harrowing secret and the author, a cancer survivor with a bad attitude and a sad yard. A perfect spring awakening."—Good Housekeeping

"No green thumb is required to enjoy the warmhearted pleasures of Carol Wall's moving memoir, Mister Owita's Guide to Gardening.... magnetically compelling ... Grace and gardening go hand-in-glove in this fine book about what really matters in life: friendship, kindness and watching a garden grow." —USA Today 
 
"With her children grown and out of the house, Carol Wall is obsessed—perhaps overly so—with ripping out her azaleas. That is, until she meets a certain Giles Owita, Kenyan gardener, supermarket bagger, general-life philosopher and perhaps one of the most refined and gracious characters to ever hit the page (except that he's real)… A warning for the shy: The basic goodness of Owita's attitude may cause you to beam spontaneously as you read, leading to off looks from strangers at the coffee shop." —Oprah.com
"A must-read memoir.... Both shocking and profoundly moving. This book is not just about gardening." —AARP blog
"In this heartbreaking yet heartwarming paean to the joys of friendship and gardening, Wall crafts an elegiac tribute to an extraordinary man." —Booklist 
"[T]his memoir chronicl[es] the many lasting rewards garnered from an unexpected friendship..." —Publishers Weekly (starred review)
"A pleasure to read. Wall's bittersweet story of human kindness has universal appeal." —Kirkus Reviews
"I couldn't put this book down. I found myself liking the principal characters from the opening pages, and my affection for them never wavered. If you enjoy inspirational memoirs or gardening books (or both), this moving account of a life-changing friendship is for you." —Bookpage
No Data Available !!!