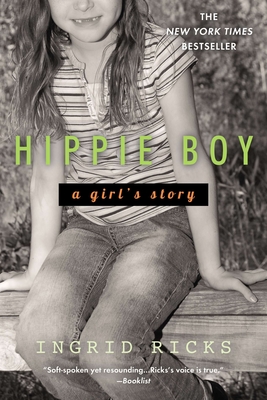 Hippie Boy
A Girl's Story
Paperback

* Individual store prices may vary.
Other Editions of This Title:
Paperback (10/1/2011)
Description
Discover the unforgettable New York Times bestselling memoir about growing up in a dysfunctional Mormon family--and finding escape, adventure, and hard-earned wisdom on the road...

What would you do if your stepfather pinned you down and tried to cast Satan out of you? For thirteen-year-old Ingrid, the answer is simple: RUN.

For years Ingrid Ricks yearned to escape the poverty and the suffocating brand of Mormon religion that oppressed her at home. Her chance came when she was thirteen and took a trip with her divorced dad, traveling throughout the Midwest, selling tools and hanging around with the men on his shady revolving sales crew. It felt like freedom from her controlling mother and cruel, authoritarian stepfather—but it came with its own disappointments and dysfunctions, and she would soon learn a lesson that would change her life: she can't look to others to save her; she has to save herself.
Praise For Hippie Boy: A Girl's Story…
"A soft-spoken yet resounding reminder of the power plays tied to religion...Ricks' voice is true, and her prose has a poised confidence missing from the repertoires of many established authors."–Booklist

"A stunning masterpiece...Though this is a memoir, it reads like a fictional story, with all the necessary literary elements including conflict, religious strife and character arcs. Brilliant, emotional...you feel empowered and inspired when you reach the last page."–eNovelReviews.com

"In clear, graceful prose and in a voice that is refreshingly authentic, Ricks tells an uplifting story of heartbreak, hope and self-salvation."--Kirkus Reviews

"The story reads like a novel even though it is an autobiographical account. Ricks' strength to overcome despite desperate odds will likely inspire readers with a desire to do the same."--Deseret News

"[Ricks] adeptly captures a dysfunctional relationship that's steeped in love...Well written and heartbreaking."--Publishers Weekly 

"Most touching is what the author takes from the experience: the value of forgiveness, which is always the first step to freedom."--Seattle Weekly 

"Ricks' writing is easy and engaging, and her details are sharp…Readers will likely find her story empowering and inspiring and will cheer for her happy ending."—The Bust

 
Berkley, 9780425274002, 304pp.
Publication Date: January 7, 2014
About the Author
Ingrid Ricks is also the author of Focus, a memoir about retinitis pigmentosa, and A Little Book of Mormon (and Not So Mormon) Stories. She co-launched WeAreAbsolutelyNotOkay.org, a nationally recognized mentoring/publishing program for at-risk teens. Her essays and stories have been published in Salon, Ladies Home Journal, and The Advocate, among others.
Why did Ingrid want to escape her home life? And why was she so drawn to her dad, even though he continually let her down?
How did the failed trip to Mississippi serve as a foreshadowing for the rest of the book?
What role did the Mormon Church play in Ingrid's life vs. the people who were in her life? Was it the Church doctrine or the people enforcing the doctrine that led to the problems Ingrid experienced?
Sometimes the worst offenders are people who have felt powerless themselves. Do you think Earl would have been abusive if he hadn't been so down and out?
What kind of man was Jerry Ricks? What were his strengths and weaknesses, his flaws and contradictions?
Though the strong bond between Ingrid and her dad is a central theme in Hippie Boy, there are hints that Jerry Ricks wanted a relationship with his other children and yearned for their approval and love. Why do you think he was unable to establish the same relationship with Ingrid's siblings?
Discuss Ingrid's mother. How do you think her childhood shaped her decisions as an adult and her need to be guided by religion?
Why do you think Ingrid's mom stayed in the relationship with Earl even when she knew the marriage was having a devastating impact on her children? Have you ever felt trapped in a situation? Were you able to get out of it? If so, how?
Did you feel sympathy for Ingrid's dad? What about for her mom? Could you relate with her need to have someone else make the decisions for her?
Discuss Ingrid's relationship with her sister, Connie. What impact did Connie have on Ingrid's life?
Describe Connie. How did she cope with the situation at home? Does her strength come through early on in the story?
Other than Connie, there is very little mention of Ingrid's siblings throughout the book. Ingrid mentions in the story that she had very little interaction with her siblings even though they lived under the same roof. Why do you think this was? Discuss the relationship you had with your siblings growing up. What is your relationship like with your siblings now?
Why do you think Ingrid, as a child, so readily identified with her dad and was willing to forgive his faults and shortcomings?
Discuss Ingrid's relationships with her mom. Why do you think Ingrid was less forgiving of her mom, even though she was the parent who stayed behind and took on the sole financial responsibility of raising Ingrid and her siblings? 15. What character traits — both good and bad — do you think that Ingrid inherited from her parents? And how do you think those traits shaped Ingrid's life?
Do you think Ingrid had any inkling of the implications of her dad's "creative financing" techniques?
How did her dad's arrest serve as a turning point for Ingrid?
What would you have done had you been in the same situation as Ingrid?
How did Ingrid change throughout the story?
or
Not Currently Available for Direct Purchase