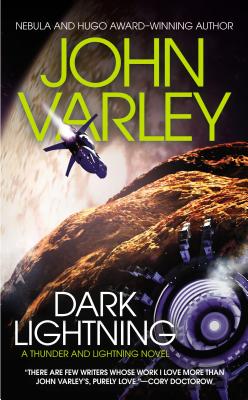 Dark Lightning (Mass Market)
Ace, 9780425274088, 352pp.
Publication Date: March 31, 2015
* Individual store prices may vary.
Description
Known for "superior science fiction" (The Philadelphia Inquirer), author John Varley returns to his Thunder and Lightning series with a novel of how one man's volatile genius could alter a starship's epic plunge into a future where human survival is just a theory…

On a voyage to New Earth, the starship Rolling Thunder is powered by an energy no one understands except for its eccentric inventor, Jubal Broussard. But now, on his emergence from a state of suspended animation, Jubal makes a shocking announcement: The ship must stop, or everyone will die.

These words from the mission's founder, the man responsible for the very existence of Rolling Thunder, will send shock waves throughout the starship—and divide its passengers into those who believe and those who doubt. And it will be up to his twin daughters to stop a mutiny, discover the truth, and usher the ship into a new age of exploration…
About the Author
John Varley is the author of Slow Apocalypse, the Gaean Trilogy (Titan, Wizard, and Demon), Steel Beach, The Golden Globe, Red Thunder, Mammoth, Red Lightning, and Rolling Thunder. He has won both the Nebula and Hugo awards for his work.
Praise For Dark Lightning…
Praise for John Varley:

"There are few writers whose work I love more than John Varley's, purely love."—Cory Doctorow

"John Varley is the best writer in America."—Tom Clancy

"My life-experience of John Varley's stories has been that the great majority of them are literally unforgettable."—William Gibson

"One of science fiction's most important writers."—The Washington Post

"Inventive."—The New York Times

"One of the genre's most accomplished storytellers."—Publishers Weekly

"[Varley] excels in imaginative SF adventure, bringing together an intriguing premise and resourceful characters in a tale of mystery, suspense, and a voyage through time."—Library Journal

"Science fiction doesn't get much better than this."—Spider Robinson