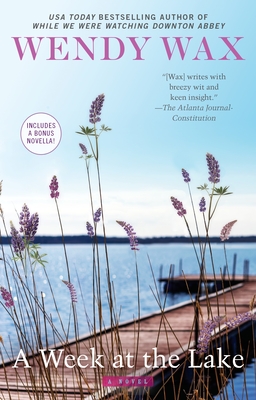 A Week at the Lake
Paperback

* Individual store prices may vary.
Other Editions of This Title:
Digital Audiobook (6/22/2015)
MP3 CD (6/23/2015)
Mass Market (6/28/2016)
MP3 CD (6/23/2015)
Compact Disc (6/23/2015)
Hardcover, Large Print (11/11/2015)
Compact Disc (6/23/2015)
Description
From the USA Today bestselling author of The House on Mermaid Point comes a powerful novel about secrets, loyalty, and the bonds of true friendship...included in this edition only—Wendy Wax's novella, Christmas at the Beach!

Twenty years ago, Emma Michaels, Mackenzie Hayes, and Serena Stockton bonded over their New York City dreams. Then, each summer, they solidified their friendship by spending one week at the lake together, solving their problems over bottles of wine and gallons of ice cream. They kept the tradition for years, until jealousy, lies, and life's disappointments made them drift apart.

It's been five years since Emma has seen her friends, an absence designed to keep them from discovering a long-ago betrayal. Now she's in desperate need of their support. The time has come to reveal her secrets—and hopefully rekindle their connection.

But when a terrible accident keeps Emma from saying her piece, Serena and Mackenzie begin to learn about the past on their own. Now, to heal their friendship and their broken lives, the three women will have to return to the lake that once united them, and discover which relationships are worth holding on to...
Praise For A Week at the Lake…
Praise for A Week at the Lake:
"Wax offers her trademark form of fiction, the beach read with
substance" --Booklist

"Wax really knows how to make a cast of characters come alive.  Readers will love and fuss at the characters as if they've been friends with them all along....Wax infuses each chapter with enough drama, laughter, family angst and friendship to keep readers greedily turning pages until the end." --RT Book Reviews
Praise for the novels of Wendy Wax
"Wise and witty...A beautiful book about loyalty, courage, and pursuing your dreams with a little help from your friends. I loved this book!"— Karen White, New York Times bestselling author of A Long Time Gone

"Reading Wendy Wax is like discovering a witty, wise, and wonderful new friend."—Claire Cook, bestselling author of Must Love Dogs and Time Flies

"A terrific story brimming with wit, warmth, and good humor. I loved it!"—Jane Porter, author of The Good Wife

"Quite a clever, fun little novel."—USA Today

"Great escape reading, perfect for the beach."—Library Journal

"Fun . . . heartwarming. . . . A loving tribute to friendship and the power of the female spirit."—Las Vegas Review-Journal

"[Wax] writes with breezy wit and keen insight."—The Atlanta Journal-Constitution
Berkley, 9780425274477, 432pp.
Publication Date: June 23, 2015
About the Author
Wendy Wax, a former broadcaster, is the USA Today bestselling author of ten novels, including While We Were Watching Downton Abbey, The House on Mermaid Point, and Ocean Beach. The mother of two college-age sons, she lives in the Atlanta suburbs with her husband, and is doing her best to adjust to the quiet of her recently emptied nest.
Did you identify with a particular character in the novel? Who and why?
Emma continues to hear her grandmother's voice, even though she is no longer a physical presence in her life. Do departed loved ones continue to influence your own thoughts and actions?
As the novel progresses, Mackenzie and Adam's relationship becomes increasingly strained. Did you want their relationship to survive or would they be better off apart?
Did Mackenzie harbor resentment towards Adam because he didn't want to adopt a child? Was the blog a way of concealing her true feelings from others or herself?
When Emma's betrayals are exposed do you sympathize with her? Who do you think was most hurt by her dishonesty? If a friend kept something like this from you, could you forgive her?
Serena's therapist comments, "If you're going to expend time and energy imagining scenarios, you really need to allow for the positive." What does this say about Serena's personality? Do you tend to think for the best or the worst in difficult situations?
How does Serena use humor to dispel her discomfort? Why do you think she constantly makes light of difficult situations?
Were you upset with Serena for rekindling her relationship with Brooks? Can you understand her choice? Do you think it was necessary for her ultimate growth?
Emma comments "she could see how much of [Zoe's father] her daughter carried." Do you think personality traits and mannerisms are genetic? Have you witnessed this within your own family?
Mackenzie is very blunt with Serena regarding her relationships with married men. Do you agree with Mac? Did you feel at all sorry for Serena?
At a very young age, Emma divorces her family. What did you think of this extreme decision?
By the novel's end, do you think there was room for reconciliation between Emma and her parents? Did Emma's mother deserve a second chance or did she ruin it?
How does Zoe and Emma's relationship develop throughout the novel? What are some significant turning points in their narrative?
How does Emma's relationship with her own family effect how she parents Zoe? Were there moments when Emma was being overprotective of Zoe due to her own experiences?
or
Not Currently Available for Direct Purchase