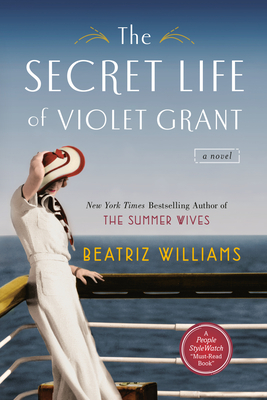 The Secret Life of Violet Grant (The Schuler Sisters Novels #1) (Paperback)
Berkley, 9780425274842, 528pp.
Publication Date: May 5, 2015
Other Editions of This Title:
Digital Audiobook (5/26/2014)
Hardcover (5/27/2014)
Pre-Recorded Audio Player (6/2/2014)
Hardcover, Large Print (8/27/2014)
* Individual store prices may vary.
Description
A story of love and intrigue that travels from Kennedy-era Manhattan to World War I Europe from the New York Times bestselling author of The Summer Wives.

Fresh from college, irrepressible Vivian Schuyler defies her wealthy Fifth Avenue family to work at cutthroat Metropolitan magazine. But this is 1964, and the editor dismisses her…until a parcel lands on Vivian's Greenwich Village doorstep that starts a journey into the life of an aunt she never knew, who might give her just the story she's been waiting for.

In 1912, Violet Schuyler Grant moved to Europe to study physics, and made a disastrous marriage to a philandering fellow scientist. As the continent edges closer to the brink of war, a charismatic British army captain enters her life, drawing her into an audacious gamble that could lead to happiness…or disaster.

Fifty years later, Violet's ultimate fate remains shrouded in mystery. But the more obsessively Vivian investigates her disappearing aunt, the more she realizes all they have in common—and that Violet's secret life is about to collide with hers.

A People StyleWatch "Must Read Book"
One of Reader's Digest's Top Summer Thrillers of the Year
About the Author
Beatriz Williams lives with her husband and children in Connecticut. She is the New York Times bestselling author of Along the Infinite Sea, Tiny Little Thing, The Secret Life of Violet Grant, A Hundred Summers, and Overseas. She also writes under the pseudonym Juliana Gray.
Praise For The Secret Life of Violet Grant (The Schuler Sisters Novels #1)…
"A riveting tale."—US Weekly

"Another substantive beach read steeped in history and familial intrigue…Readers will love wallowing in the twists and turns of this irresistibly luxurious tale."—Booklist

"A story of passion, redemption and a battered suitcase full of mysteries."—Greenwich Time

"Fabulous...a perfect summer read."—Examiner.com

"Another absorbing page-turner filled with romance and secrets."—Library Journal

"Mysterious, passionate, and engrossing."—Popsugar

"Hard to stop reading."—The Missourian

"A smashing summer read."—Historical Novels Review
Vivian Schuyler's and Violet Grant's stories are separated by fifty years. They each pursued very different career paths, yet both women had similar ambitions and faced a surprising number of similar challenges and obstacles. Discuss the similarities and differences in their professional goals, how they pursued those goals, and how they overcame obstacles along the way. What about similarities in their personal lives?generic viagra price canada
It has been fifty years since Vivian found out about Violet, her great-aunt. How do modern women's experiences measure up to Vivian's? To Violet's?generic viagra price canada
The meaning and context of love plays a central role The Secret Life of Violet Grant, which touches on romantic, platonic, and familial love, and even delves into the dynamics of abuse. Discuss different examples of love and how it functions-or fails to function-in the context of the characters' lives.generic viagra price canada
Why do you think Vivian was immediately drawn so strongly to Violet's story?generic viagra price canada
Discuss Vivian's friendship with Gogo. How does this relationship affect both women? How does it change by the end of the book? Does it matter that it was rooted in Vivian's determination to work at the Metropolitan? Do you think Vivian and Gogo will remain friends?generic viagra price canada
Does this friendship bear any similarities to that between Violet and the Comtesse de Saint-Honoré?generic viagra price canada
Early on, Lionel Richardson expresses a sentiment about women voting-only "sensible" women should vote. As appalling as his behavior is, Walter Grant actually disagrees with this opinion and expresses support for Violet's ambitions and women's rights in general. Compare and contrast Lionel and Walter in this regard. How do their actions measure up to their words?generic viagra price canada
Discuss Vivian's relationship with her family-how she does and doesn't fit in with the Schuylers? In light of the tension between them all, why do you think family is still important to her?generic viagra price canada
Though we don't see it, Violet's relationship with the Schuylers was clearly much more fraught. Do you think family was still important to her? Why or why not?generic viagra price canada
The Greenwalds (from A Hundred Summers) make an appearance in The Secret Life of Violet Grant. Discuss how they fit in with and compare to the Schuylers.generic viagra price canada
At one point, Vivian's sister Pepper says, "I think the secret to marriage is just old-fashioned tolerance." Do you agree? What role do you think this sentiment plays in their parents' marriage? Why do they stay together, despite the cracks in the relationship and the readier acceptance of divorce among the upper classes of the period? How about the other couples in the book?generic viagra price canada
Demands for obedience are ever present in Violet's life, especially in the areas of family, work, and romance. How does she confront them?generic viagra price canada
Vivian is much more outspoken and boisterous than her great-aunt. How does she confront similar demands and social strictures? How does her approach compare to Violet's?generic viagra price canada