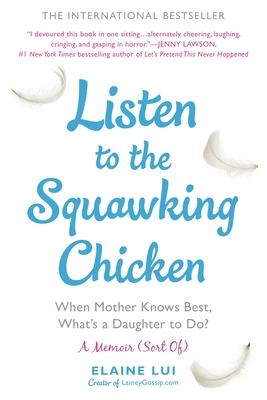 Listen to the Squawking Chicken
When Mother Knows Best, What's a Daughter to Do?
Paperback

* Individual store prices may vary.
Other Editions of This Title:
Hardcover (4/22/2014)
Description
An affectionate tribute to her tough, powerful Chinese mother. Kirkus Reviews I devoured this book in one sitting...alternately cheering, laughing, cringing, and gasping in horror. Lui captures the complexity of a mother-daughter relationship that is both complicated and beautiful. Poignant with a bare honesty that may make you think (and rethink) your own relationships. Jenny Lawson, #1New York Times bestselling author ofLet's Pretend This Never Happened
Meet Elaine Lui's mother. She's a movie, an Amy Tan novel, and a sitcom all rolled into one. * Or as her daughter sums it up: She's Chinese, she squawks like a chicken, she is totally nuts, and I am totally dependent on her.
With tales of brutal mah-jong competitions, all-cap texts ( YOUR BAD SKIN NEED SOUP ); public shaming, and pearls of occasionally-bizarre wisdom; Lui not only paints a portrait of a challenging, frustrating, fascinating woman that will make you laugh and cry she eloquently describes exactly what it's like to love someone who drives you crazy.
A remarkable memoir about Lui's relationship with her Hong Kong-born mom, who makes Tiger Mothers look like pussycats. Tampa Bay Times
*Lisa Gabriele, author and TV producer.
Berkley Books, 9780425275375, 288pp.
Publication Date: April 7, 2015
About the Author
Elaine Luiis the voice behind the wildly popular and successful blog LaineyGossip.com, which gets nearly 1.5 million unique visitors monthly. She lives in Toronto with her husband and beagles. Listen to the Squawking Chicken is her first book."
Elaine Lui tells us that Chinese women are taught to be humble and meek-not exactly the Squawking Chicken's approach. How do you think Elaine has come to reconcile her mother's demeanor with her own? Where in the book did you begin to see Elaine's individuality take shape?
Elaine's mother taught her that if she could tell the story of the worst thing that had ever happened to her, she would never be silenced. Do you agree? How are people burdened or liberated by their past?
From the absence of bedtime stories to the Squawking Chicken's frank day-to-day advice, Elaine writes about her mother's belief that a parent's role is to provide a crash course in real-world preparation. How does your experience as a parent or child differ from what is described in Listen to the Squawking Chicken?
The notion of filial piety appears throughout the book, and eventually we learn that Elaine and Jacek-who have decided against hatching a brood-won't be reaping the returns of an obedient child. What's your take on filial piety? Have your parents expected obedience from you and, if applicable, will you expect it from your children in turn?
Elaine discusses the challenge of bridging her ethnic culture with her Canadian identity. "Ma shamed me so that I would not suppress the Chinese part of myself to try to become something I could never be." Shame is often used to repress unwanted thoughts and actions, but the Squawking Chicken uses shame to hone Elaine's self-confidence. Is shame a useful tool for this? How did or didn't it work for Elaine?
The Squawking Chicken wasn't shy about buying Elaine's first bra. When Elaine expressed some embarrassment, her mother said: "Your body, this natural. What you need, bra, this natural. . . . If you shame your body, you shame yourself. When you shame yourself, everyone shame you." How have girls and women been taught to perceive their developing bodies? Is this changing?
Feng shui is a constant force in Elaine's life-in romance, house-hunting, and career choices. Were you surprised by the way feng shui has influenced her personal life? Do you use anything similar in your own?
Elaine says that when the Squawking Chicken's relationship with her second husband came to an end, her mother felt disappointment because "she'd let herself be disappointed. She'd let herself trust a person who only let her down. And, once again, that disappointment was a result of her powerlessness." How accountable can one individual be for another's actions? Do you tend to shoulder disappointment alone?
The Squawking Chicken doesn't believe in lauding another person's good looks. ("So what pretty?") Do compliments on physical appearance have value?
Do you believe, as the Squawking Chicken does, that a person needs deliberately limited the number of people you call close friends?
Elaine identifies her mother's lack of empathy, which often manifests itself in her strict assessment of "Low Classy" people, as one reason she struggles to make and maintain friendships. To what standards do you hold your own friends? Do you think the Squawking Chicken's expectations are, as Elaine believes, too lofty?
The Squawking Chicken isn't afraid to share her material successes with others. When Elaine confronts her mother about showing off her new house to friends, the Squawking Chicken replies: "Your daddy work hard. Your daddy buy a big house. Be proud of your daddy!" Is there a line between pride and boastfulness? If so, where do you draw it?
How do you think the Squawking Chicken feels about having this book written about her life with her daughter, by her daughter?
or
Not Currently Available for Direct Purchase