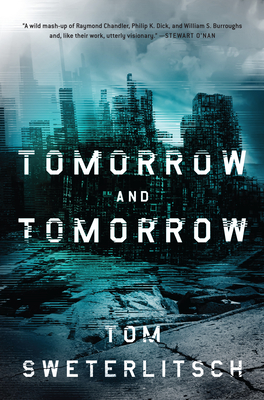 Tomorrow and Tomorrow (Paperback)
G.P. Putnam's Sons, 9780425275412, 384pp.
Publication Date: May 5, 2015
Other Editions of This Title:
Digital Audiobook (7/9/2014)
Hardcover (7/10/2014)
* Individual store prices may vary.
Description
In this "wild mash-up of Raymond Chandler, Philip K. Dick, and William S. Burroughs"*, a man who uses virtual reality to escape the horror of his dystopian world becomes obsessed with a mystery that could drive him mad.

Pittsburgh is John Dominic Blaxton's home even though the city has been uninhabitable ruin and ash for the past decade. The Pittsburgh Dominic lives in is the Archive, an immersive virtual reconstruction of the city's buildings, parks, and landmarks, as well as the people who once lived there. Including Dominic's wife and unborn child.

When he's not reliving every recorded moment with his wife in an endless cycle of desperation and despair, Dominic investigates mysterious deaths preserved in the Archive before Pittsburgh's destruction. His latest cold case is the apparent murder of a woman whose every appearance is deliberately being deleted from the Archive.

Obsessed with uncovering this woman's identity and what happened to her, Dominic follows a trail from the virtual world into reality. But finding the truth buried deep within an illusion means risking his sanity and his very existence...

"Tomorrow and Tomorrow is many things: a near-future cyberpunk thriller in the tradition of William Gibson and Bruce Sterling; a funny, gloomy meditation on technology and mental illness in the tradition of Phillip K. Dick and J.G. Ballard; a cynically outrageous mystery less in the tradition of Chandler than that of James Ellroy. A bleak, gorgeous romp through a pornographic and political American id. If books like this are the future of fiction, I'm not afraid for books at all."—Pittsburgh Post-Gazette

*Stewart O'Nan
About the Author
Tom Sweterlitsch is the author of The Gone World and Tomorrow and Tomorrow. He has a Master's Degree in Literary and Cultural Theory from Carnegie Mellon and worked for twelve years at the Carnegie Library for the Blind and Physically Handicapped. He lives in Pittsburgh with his wife and daughter.
Praise For Tomorrow and Tomorrow…
Praise for Tomorrow and Tomorrow

"A disquieting vision...Tomorrow and Tomorrow is literary sci-fi, focusing on the picture, like Henry James, not the frame that defines it, like H.G. Wells."—The Wall Street Journal

"Tomorrow and Tomorrow crosses the streams between dystopian nightmares—enveloping both the invasive total-surveillance state of Minority Report and the post-nuclear apocalypse of The Road. It's quite unusual for a first-time writer to have such a command of so many literary styles. Inherently cinematic...It's fiction, of course, but just close enough to our reality to be disturbing."—Pittsburgh Tribune

"Simultaneously trippy and hardboiled, Tomorrow and Tomorrow is a rich, absorbing, relentlessly inventive mindfuck, a smart, dark noir....utterly visionary."—Stewart O'Nan

"Tomorrow & Tomorrow is weird, hypnotic, and lovely.  Sweterlitsch's future is close enough to be plausible, and strange enough to be fascinating."—Django Wexler, author of The Thousand Names
 
"Vividly and beautifully written."—Kirkus Reviews

"The premise of this debut novel is fascinating in its possibilities…Fans of William Gibson and classic noir will love how the styles intersect here."—Library Journal

"[A] fascinating work of dystopian fiction, stuffed to the seams with ideas, striking visuals, and raw emotion."—Tor.com
 
"Vivid and compelling."—Publishers Weekly