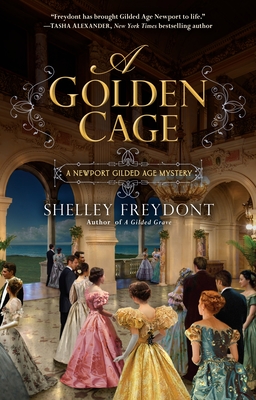 A Golden Cage (NEWPORT GILDED AGE #2) (Paperback)
Berkley, 9780425275856, 368pp.
Publication Date: June 7, 2016
* Individual store prices may vary.
Description
The author of A Gilded Grave returns to Newport, Rhode Island, at the close of the nineteenth century, where headstrong heiress Deanna Randolph must solve another murder among the social elite.

With her mother in Europe, Deanna is staying with the Ballard family, who agree to chaperone her through the summer season and guide her toward an advantageous marriage proposal—or so her mother hopes. Relishing her new freedom, Deanna is more interested in buying one of the fashionable new bathing costumes, joining a ladies' bicycling club, and befriending an actress named Amabelle Deeks, all of which would scandalize her mother.
 
Far more scandalous is the discovery of a young man bludgeoned to death on the conservatory floor at Bonheur, the Ballards' sumptuous "cottage." Deanna recognizes him as an actor who performed at the birthday fete for a prominent judge the night before. But why was he at Bonheur? And where is Amabelle?
 
Concerned her new friend may be in danger—or worse—Deanna enlists the help of her intrepid maid, Elspeth, and her former beau, Joe Ballard, to find Amabelle before the villain of this drama demands an encore.
About the Author
Shelley Freydont is the author of several mystery series, including the Newport Gilded Age Mysteries, the Celebration Bay Mysteries, and the mysteries featuring Lindy Haggerty and Katie McDonald. As Shelley Noble, she is the New York Times bestselling author of several women's fiction novels. Her books have been translated into seven languages.
Praise For A Golden Cage (NEWPORT GILDED AGE #2)…
Praise for the Newport Gilded Age Mysteries

"Shelley Freydont does an excellent job of transporting the reader to the glamorous Gilded Age in A Golden Cage. Likable characters, a strong mystery, and a compelling setting make for a really enjoyable read."—Open Book Society

"The time period adds opulence and extravagance to the story as a young female sleuth finds her way in a constraining society. The mystery is well plotted with plenty of twists and turns and deviously flawed villains...It's an overall thrilling ride through a transformative time period."—RT Book Reviews

"Evoking the luxurious and extravagant world of the Gilded Age, Newport heiress and feisty amateur sleuth, Deanna Randolph, is a force to be reckoned with in this lively mystery."—Tessa Arlen, author of the Lady Montfort series
 
"Utterly captivating! Freydont skillfully combines the glittering excess of the Gilded Age and a believable upstairs-downstairs dynamic with a thrilling murder mystery. Readers will fall in love with this intrepid new sleuthing pair and the dashing young men they assist. A must read for fans of historical mystery."—Anna Lee Huber, bestselling author of the Lady Darby Mysteries

"Charming and colorful characters, a richly detailed setting, and a compelling mystery make A Gilded Grave a thoroughly captivating read."—Ashley Weaver, Edgar Award-nominated author of Murder at the Brightwell
 
"This well-crafted mystery is an absolute delight. Freydont has brought Gilded Age Newport to life with the skill of an historian and the insight of the keenest social observer. Deanna Randolph is my favorite new sleuth."—Tasha Alexander, New York Times bestselling author of The Counterfeit Heiress

"Richly atmospheric...Fans of romantic period pieces will find a lot to like."—Publishers Weekly