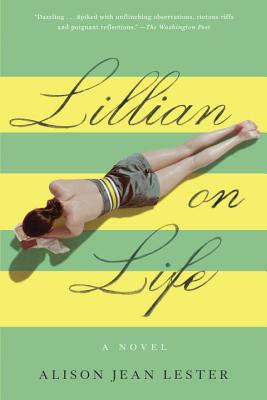 Lillian on Life (Paperback)
A Novel
G.P. Putnam's Sons, 9780425276204, 256pp.
Publication Date: May 10, 2016
Other Editions of This Title:
Digital Audiobook (1/12/2015)
Hardcover (1/13/2015)
Library Binding, Large Print (6/1/2015)
* Individual store prices may vary.
Description
"I absolutely loved Lillian on Life." —Kate Atkinson

"I found it full of life and full of wisdom." —Erica Jong


Smart, poignant, funny, and totally original, Lillian on Life is as fresh and surprising as fiction gets.

This is the story of Lillian, a single woman reflecting on her choices and imagining her future.  Born in the Midwest in the 1930s; Lillian lives, loves, and works in Europe in the fifties and early sixties; she settles in New York and pursues the great love of her life in the sixties and seventies. Now it's the early nineties, and she's taking stock. Throughout her life, walking the unpaved road between traditional and modern choices for women, Lillian grapples with parental disappointment and societal expectations, wins and loses in love, and develops her own brand of wisdom. Lillian on Life lifts the skin off the beautiful, stylish product of an era to reveal the confused, hot-blooded woman underneath.
About the Author
Alison Jean Lester was born in California and has traveled all her life and variously studied, worked, and raised a family in the United Kingdom, Italy, China, Taiwan, Japan, and Singapore. She now lives in England.
Praise For Lillian on Life: A Novel…
Praise for
Lillian on Life
by Alison Jean Lester:
"Lester's novel about a tenacious, well-traveled heroine of a certain age is replete with the profound and comical observations of a vivacious spirit." —O, The Oprah Magazine

"Lillian on Life is everything a debut novel should be: fresh, original, and unforgettable. In this short, but stylish, book Alison Jean Lester brings Lillian – a woman of a certain age – vividly to life. In exacting, economical and convincing prose, Lester's Lillian lives fully in all her sassy, wise and utterly original glory." -- Examiner.com, "Best Books of 2015"

"Dazzling…In short vignettes, Lillian looks back, drawing an impressionistic portrait of a bold life full of adventure—erotic and otherwise—in prose spiked with unflinching observations, riotous riffs and poignant reflections." —The Washington Post

"Illuminating…The novel is a cleverly executed feminist bildungsroman that you could easily share with your mother, sister, friend, or, probably most appropriately, life coach." —Nylon

"I absolutely loved Lillian on Life. It was a delight. The style of it so fresh and clever and subversive and there's something very brave about it, especially for a first novel." —Kate Atkinson, #1 New York Times bestselling author of Life After Life

"What a great voice, what energy and wit. I enjoyed Lillian's travels, her various jobs, and her lovers. She had moments of great wisdom—I was drawn especially to those—and in the midst of the humor and the happenings, a sentence or two of such profundity. I thought the book was very original and often extremely funny, but always with an edge. My favorite kind of humor. I completely loved it!" —Karen Joy Fowler, PEN/Faulkner award-winner and New York Times bestselling author of The Jane Austen Book Club 

"Lillian on Life is a quirky book with a very deep heart and soul. I found it full of life and full of wisdom." —Erica Jong, #1 New York Times bestselling author of Fear of Flying
"A remarkably confident debut ... Unconventionally plotted, Lillian's tale is filled with lush details and cool observations about the twins of female freedom: contentment and compromise. A slim novel that feels just perfect—each thought measured, each syllable counted, a kind of haiku to an independent woman." —Kirkus Reviews (starred review)

"Debut author Lester brings to life a fascinating protagonist, Lillian, a middle-aged woman with a delightfully honest approach to life, love, and happiness…. Lillian is the cosmopolitan aunt we all wish we had—the one who always bestows the best advice just when it's needed, knows the perfect gift to give for every occasion, and tells the most interesting stories about her life…. Lester has given readers the grand gift of Lillian's wisdom, beauty, and candor in this lovely novel." —Booklist 

"This lively and insightful debut novel holds up the decisions women make every day to analysis and introspection. It is startlingly frank and sometimes funny or shocking or heartbreaking. There's a raw and intimate quality to the first-person narrative that counterbalances the vignette structure…. While this book is more demanding than typical women's fiction, the rewards are worth the time. It's a strong choice for book groups and readers seeking 'something different.'" —Library Journal
"A wry and poignant look at middle age…. A mix of 'live and let live' and the dos and don'ts from her midcentury upbringing, the heroine of Lillian on Life slides off the page as real, complicated, and contradictory…. In Lillian, Lester has created a wry, self-conscious, introspective woman with a memorable voice to match. Like a portrait painted over and over, Lillian bears the evidence of many revisions. Her vulnerability is palpable in every story she relates. Each chapter acts like a signpost on Lillian's journey to find peace with herself." —Bookpage 
"I'll never forget Lillian on Life. Looking backward, she's brutally honest about her needs, her lovers, her parents. Salinger could have invented her . . . Roth would have loved her . . . and so will you. A rare book, a little raunchy, but very rich and very real." —Ilene Beckerman, author of Love, Loss and What I Wore
"In this remarkably mature first novel, Alison Jean Lester has channeled the worldly yet wistful elegance of Colette to portray an unforgettable heroine. Lillian's provocative reflections on love, vanity, sexual intimacy, and surviving as an independent woman over half a century are deeply moving." —Julia Glass, National Book Award–winning author of Three Junes and The Widower's Tale
"What a splendid book! By turns acerbic and warm, urbane and homespun, Lillian on Life is—like its protagonist—charming, funny, and unabashedly smart. But as slender and enjoyable as this book is, it's much more than simply a lark. Each elegantly compressed chapter leaves us luxuriating in thought: about the snippets of experience so vividly depicted, and about those that have been, with perfect art, left out." —Leah Hager Cohen, author of The Grief of Others and No Book but the World
or
Not Currently Available for Direct Purchase