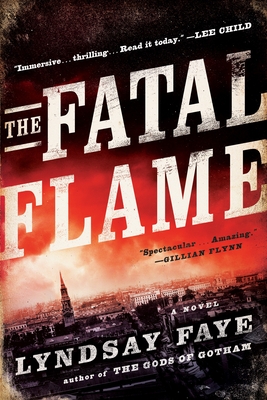 The Fatal Flame (A Timothy Wilde Novel #3) (Paperback)
G.P. Putnam's Sons, 9780425276266, 496pp.
Publication Date: April 5, 2016
* Individual store prices may vary.
Description
Heralded by Gillian Flynn as "so spectacular . . . amazing," the final installment in Lyndsay Faye's Timothy Wilde series--now in paperback! 

No one in 1840s New York likes fires, but Copper Star Timothy Wilde least of all. So when an arsonist with an agenda begins threatening Alderman Robert Symmes, a corrupt and powerful leader high in the Tammany Hall ranks, Wilde isn't thrilled to be involved. His reservations escalate further when his brother Valentine announces that he'll be running against Symmes in the upcoming election, making both himself and Timothy a host of powerful enemies.

Meanwhile, the love of Wilde's life, Mercy Underhill, unexpectedly shows up on his doorstep and takes under her wing a starving orphan with a tenuous grasp on reality. It soon becomes clear that this wisp of a girl may be the key to stopping those who have been setting fire to buildings across the city—if only they can understand her cryptic descriptions and find out what she knows. Boisterous and suspenseful, The Fatal Flame is filled with beloved Gotham personalities as well as several new stars, culminating in a fiery and shocking conclusion.
About the Author
Lyndsay Faye is the author of three critically acclaimed books: Dust and Shadow,The Gods of Gotham, which was nominated for an Edgar for Best Novel, andSeven for a Secret. Faye, a true New Yorker in the sense she was born elsewhere, lives in Manhattan with her husband, Gabriel.
Praise For The Fatal Flame (A Timothy Wilde Novel #3)…
Praise for The Fatal Flame:

"As always in this series, the research is impeccable and the period ambience dazzling." —The New York Times Book Review

"Lyndsay Faye's New York trilogy is immersive, compelling, convincing, and yes, thrilling.  Read it today for solid-gold entertainment, but don't be surprised to see it taught in college tomorrow." –Lee Child 

"Faye masterfully evokes the turbulence of mid-nineteenth-century New York, with its Tammany Hall politics, burgeoning conflict over abolition, and rising wave of feminism, as Irish girls, fleeing famine, are forced into prostitution or poorly paid labor as seamstresses."  —Booklist Starred Review

"As in her previous books, Faye's diligence in researching the period is manifest, and readers will feel transported back to mid-19th-century Manhattan." --Publisher's Weekly Starred Review

"Faye's re-creations of mid-19th-century New York [in The Fatal Flame] are rich with exotic sights and smells, as well as delightfully eccentric personalities." —J. Kingston Pierce for Kirkus


Praise for Lyndsay Faye:

 "[A]tmospheric and exciting . . . [Seven for a Secret] is swift but poignant, full of violent encounters and thrilling escapes." —The Wall Street Journal
 
"This gripping, beautifully written, chilling, heartbreaking, and exciting novel . . . [Seven for a Secret] is an amazingly rich story, worthy of the word 'epic' . . . definitely one of the finest crime novels of the year." —Mystery Scene
 
"[Gods of Gotham is a] rollicking historical novel . . . a sensational account. . . ."
—The New York Times Book Review
 
"If your concept of paradise is popping in a DVD of Gangs of New York while rereading Caleb Carr's The Alienist, then put Lyndsay Faye's The Gods of Gotham on your to-buy list."
—USA Today