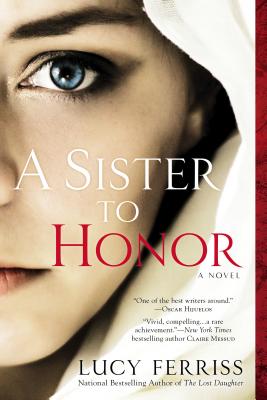 A Sister to Honor
Paperback

* Individual store prices may vary.
Description
New from the author of The Lost Daughter
Afia Satar is studious, modest, and devout. The daughter of a landholding family in northern Pakistan, Afia has enrolled in an American college with the dream of returning to her country as a doctor. But when a photo surfaces online of Afia holding hands with an American boy, she is suddenly no longer safe even from the family that cherishes her.
Rising sports star Shahid Satar has been entrusted by his family to watch over Afia in this strange New England landscape. He has sworn to protect his beloved sister from the dangerous customs of America, from its loose morals and easy virtue. Shahid was the one who convinced their parents to allow her to come to the United States. He never imagined he d be ordered to cleanse the stain of her shame...
READERS GUIDE INCLUDED

Berkley Books, 9780425276402, 400pp.
Publication Date: January 6, 2015
About the Author
Lucy Ferriss has been writing fiction, poetry, and literary criticism for many years. In addition to six previous novels including The Lost Daughter and a collection of short fiction, she has also published a work of literary criticism and dozens of short stories, poems, articles, essays, and book reviews.She currently teaches at Trinity College and lives in Connecticut and the Massachusetts Berkshires."
1. The book opens with the Pashtun proverb "Woman is the lamp of the family." What do you think this means? Do you agree with the sentiment expressed?
2. Were you familiar with traditional Pakistani culture before reading A Sister to Honor? Did any aspects of it surprise you?
3. Throughout the book, Afia's family seems conflicted about the Westernization of their children. On the one hand, they take pride when their children succeed in America; on the other, they hold disdain for the host country. What are some examples of this paradox? Do you sympathize with this contradiction or are you frustrated by it?
4. In chapter 13, Shahid claims Afia commits a "lie of omission" by not telling him about her relationship with Gus. Do you believe that omitting information is the same as telling a lie? Are there certain circumstances where it's understandable to withhold information?
5. Pakistani women are expected to maintain a strict modesty, especially when compared to the behavior of the American girls in this novel. How are American girls, such as Afia's roommates, Patty and Taylor, characterized? Do you think this is an accurate depiction?
6. Discuss how the concept of honor plays a role in the novel. What authorities define honor? Which characters do you think were honorable—or to the contrary, dishonorable?
7. In Chapter 16, Coach Lissy states, "Your people are not the only ones concerned with honor." While cultural dissimilarities prevail more often than not in A Sister to Honor, there are similarities to be found between characters and cultures. What are some other instances of this? Why do you think the author included these comparisons rather than solely focusing on clashes between cultures?
8. Throughout the novel, Shahid and Afia compare their life in America to what they've seen in American movies. Based on your experiences, do you think mainstream movies are an accurate representation of American society or is the portrait misleading? Do American films romanticize love and sex?
9. The American judicial system and pashtunwali, the code of the Pashtuns, have very different ideas about who has the right to judge an action and punish a crime. Compare these two systems. What are the flaws and benefits of each?
10. The phrase "You're in America now" is used several times to counter Shahid and Afia's defense of their Pashtun customs. Do you think they should have sacrificed their traditions and adapted? To what extent?
11. Despite the heavy focus on honor, it is love that seems to drive some of the riskiest actions and largest sacrifices in this book. Can you think of any examples of this?
12. The Pakistani women in A Sister to Honor are expected to have an arranged marriage. What do you think of this custom? Would you marry for anything other than love?
13. Who has power in A Sister to Honor, and why—is it money, gender, or position? How do characters use their power, and what limits or weakens them? Are there characters who are completely powerless?
or
Not Currently Available for Direct Purchase