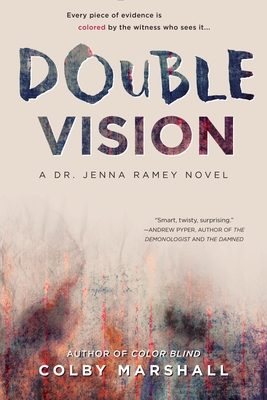 Double Vision (A Dr. Jenna Ramey Novel #2) (Paperback)
Berkley, 9780425276525, 368pp.
Publication Date: April 7, 2015
* Individual store prices may vary.
Description
New from the author of Color Blind...FBI profiler Jenna Ramey has synesthesia, a neurological condition that causes perceptions of color to flash through her mind, triggered by seemingly unrelated stimuli. But she has learned to understand and interpret these associations. They help her do her job. They can help save lives…
 
A little girl has witnessed a mass shooting. What she knows may be the key to finding the man responsible. Jenna has been tasked with drawing her out, figuring out what she saw, what she remembers, what it means.
 
But Molly is an unusual child. She is sweet and bright, and eager to help, but she has a quirk of her own: an intense preoccupation with numbers. It helps her notice things that others don't. It also leads Jenna into a maze of speculation that could turn into a wild goose chase while the body count continues to rise.
 
Jenna and Molly view the world through their own filters. In some ways, they speak different languages. Now Jenna must learn to communicate, to break Molly's code, to understand the mind of a murderer…
About the Author
Colby Marshall is also the author of Color Blind, the first Dr. Jenna Ramey novel. She is a member of International Thriller Writers and Sisters in Crime. She is especially qualified to write about grapheme-color synesthesia, as she has this rare condition.
Praise For Double Vision (A Dr. Jenna Ramey Novel #2)…
"Every investigation is about ways of seeing, and Colby Marshall explores this idea to compelling effect in the propulsive Double Vision.  Smart, twisty, surprising."—Andrew Pyper, author of The Demonologist and The Damned

"Infuses perception, savant tendencies, psychiatry, and mass murder in a Gil Grissom-(or current incarnation)-meets-Oliver-Sacks delight"—The Huffington Post

Praise for Color Blind

"[A] stellar debut…Marshall's style is clipped and spare, her main character and her powerful perceptions an intriguing hero."—Milwaukee Journal Sentinel

"High stakes and frequent setbacks keep the action taut and demonstrate Jenna's human frailties. Readers will eagerly await Jenna's next adventure."—Shelf Awareness

"Fast paced, suspenseful, and surprising. Forensic psychiatrist Jenna Ramey is a great heroine."—Meg Gardiner, Author of Phantom Instinct

Praise for the novels of Colby Marshall
 
"Colby Marshall has written a book that deserves to be called thriller."—R.L. Stine, New York Times bestselling author of the Goosebumps series
 
"An intricate puzzle that will keep you guessing until the very end!"—C.J. Lyons, New York Timesbestselling author of Chasing Shadows
 
"Colby Marshall's sterling debut may transpire over more than six or seven days, but like me you'll probably finish it in a single night, racing the dawn to flip the last page. A classic concept updated to fit our politics wary world."—Jon Land, bestselling author of Strong Rain Falling
or
Not Currently Available for Direct Purchase