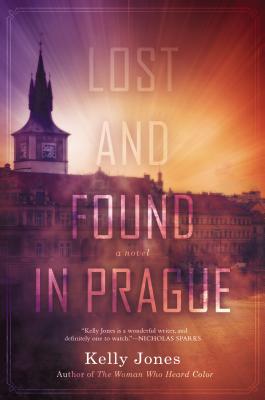 Lost and Found in Prague (Paperback)
Berkley, 9780425276709, 352pp.
Publication Date: January 6, 2015
* Individual store prices may vary.
Description
The author of The Woman Who Heard Color transports readers to a dreary Good Friday in Prague in an "intriguing thriller"* as the mysterious death of a nun sets off a tangled chain of events that inexorably draws three strangers together—and forever changes their lives…

Just after the fall of the Berlin Wall, aspiring journalist Dana Pierson joined the hordes of young people traveling to Eastern Europe to be a part of history. There, she and her best friend were swept up in the excitement of the Velvet Revolution. Twenty years later, Dana returns to the city of her youthful rebellion to reconnect with her old confidant, who never left the city. But the visit that was reserved for healing intimacies and giddy reminiscences is marred by a strange death in one of Prague's most famous Catholic churches—and an even more peculiar mystery surrounding it…

In a city where the past is never far from the present, Dana must work with a conflicted Italian priest and a world-weary Czech investigator to unlock dark secrets hidden in Prague's twisted streets. But the key to solving the puzzle may lie in memories of Dana's long-ago visit, even as she is forced to face the reality of a more recent loss…

*Publisher Weekly
About the Author
Kelly Jones is the author of The Lost Madonna, The Seventh Unicorn, and The Woman who Heard Color. She grew up in Twin Falls, Idaho. She attended Gonzaga University in Spokane, Washington, graduating magna cum laude with a degree in English and an art minor. She spent her junior year in Italy and developed a love for travel, a passion she now shares with her husband, Jim. An art history class in Florence fueled a love for the history of art, which has become an integral part of her writing. She is a mother and grandmother and lives with her husband in Boise.
Praise For Lost and Found in Prague…
Praise for the novels of Kelly Jones

"[An] intense and richly detailed novel…A wonderfully imaginative spin on art and history."—Publishers Weekly

"Jones's vivid descriptions of Florence, and the involving story, will captivate art and fiction lovers."—Booklist

"An electrifying tale of suspense filled with twists."—Midwest Book Review

"One of those rare reading experiences; page-turning and insightful, it explores the human condition in a way that few novels do. Kelly Jones is a wonderful writer, and definitely one to watch."—Nicholas Sparks
How does the title, Lost and Found in Prague, apply to some aspect of the lives of each of the three main characters?generic viagra price canada
Dana travels each year during the Easter season to block out the reality of a terrible loss. How do the events of the story and the people she meets in Prague help her to face and deal with this loss?generic viagra price canada
How does the history of the Czech Republic, as well as the novel's present-day setting in Prague, affect the plot, mood, and tone of the story? How do Dana's personal history and her past experiences in Prague play important roles in the book?generic viagra price canada
Dana describes Caroline, now Sister Agnes, as her childhood best friend, but feels the convent has created an emotional as well as physical wall between them. Does the resolution at the end of the book explain the reason for the break in their friendship? Do you think they would have naturally drifted apart? How would you compare this friendship to that of Father Borelli and Father Ruffino? Are friendships of childhood different from those of adulthood? Do you have friends from your childhood with whom you have later reconnected? Do these relationships have different dynamics as adults?generic viagra price canada
Dana and Dal learn that they share a common bond, with very different outcomes for each. How do you think this affects their relationship?generic viagra price canada
Dana is forced to work with two people she does not completely trust. Do you believe trust eventually develops between Dana and Father Borelli? Between Dana and Investigator Damek? How and when?generic viagra price canada
Before and since the revolution, Prague has been plagued by political corruption. The Czech police system is described by both Father Borelli and Dana as having elements of corruption. How do you see Investigator Damek? How does he work within this system?generic viagra price canada
Father Borelli is devastated by the dishonesty of his friend Father Ruffino, yet each of the characters deals at some point in the story with personal questions of honesty. Do you think each eventually overcomes the challenges? Is a person ever completely honest with herself or himself? With others?generic viagra price canada
Dal describes his wife as "a spiritual person, very religious. She believes in the goodness of people, in the loving mercy of God." Do you believe being religious and being spiritual are the same? Of the three people in the story who have taken religious vows, Father Borelli, Father Ruffino, and Sister Agnes, which do you think is the most religious? The most spiritual?generic viagra price canada
Miracles have been attributed to the Infant of Prague. Do you believe in miracles? Have you ever witnessed an unexplained event?generic viagra price canada
Branko Banik is an important character in the story, yet he appears only in descriptions of Dana's memories or in information revealed through Dal's investigation. How does this influence your perception of him?generic viagra price canada
At the end of the story, who has made the greatest change in his or her life? Where do you see each individual's life going from this point?generic viagra price canada
or
Not Currently Available for Direct Purchase